Russian Personalities
Sergei Zverev dug a secret passage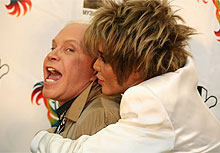 World Champion in hairdressing, stylist, singer, television presenter and "King of freaks" made its long-held dream. At the heart of Russia, just 50 meters from Red Square, Sergei Zverev open supersalon.

On the ground floor of the shopping center under the murmur of fountains, one after another floated celebreties. Following the well-known TV presenter and girlfriend of Ksenia Sobchak - its namesake Borodina (in a black dress with high shoulders and intricate hairdo from the hero of the day), flashed by Vladimir Tishko accompanied by ladies. Sam Sergei Zverev in the company of his own son - Sergei Zverev, Jr. - arrived in a suit, embroidered with silver sequins and rhinestones, with a huge ring on his right index finger and ring in his left ear. Cutting, after a brief speech, full of gratitude to have sent telegrams and arrived in person, the red ribbon, the chief kuafer Russia tied it in place of a tie.
Excursions to the halls of the salon, the prices which, incidentally, will be quite tolerable - from 5000 rubles for the haircut to 30 000 rubles. for hair extensions. Spa therapy, manicures and pedicures, massages, and the main hall - the pearl interior - room presidential, which will serve only the master himself. When? Still unknown. In the meantime, one of the walls of the hall is set portrait of Sergei Zverev upright with a bouquet of flowers in their hands. Ready and the secret passage for those wishing to visit the hall incognito. However, where it is located - a great mystery.
After the distribution of champagne and kanape cabin door shut until the morning. To allow time for our celebrities to relax and come down here in the morning without a trace of rapidly conducted at night.

Alexander Gray
Click here to see this article in russian: Сергей Зверев вырыл потайной ход
urushev_p
©2006-2020 All rights reserved