Russian Personalities
Anybody caught with his mistress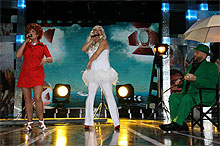 Legendary singer Anybody has always been an avid family man, but more recently during the filming of the next TV project "Superstar - 2008" he made in this question.
In the dressing room of Michael Zakharovich saw cute cooing to one of the soloists of the "Mirage" Margarita Suhankinoy, and after a while Anybody, as if nothing had happened, flirted with a different lead singer of Natalia gulkin.
Such behavior Michael explained that he had to get used to the role of Yakin, loving producer of the movie "Ivan Vasilyevich Changes His Profession." According to the singer pinched Zina played by Natalie gulkin, or put his arm around Margaret Suhankinu as mistress duty Yakin. That song "Ringing the January blizzard" of this beloved film Anybody and a group of "Mirage" reported the same day to the delight of the audience and the judges discuss.
Rita and Natasha just smile answered questions from journalists about their so ambiguous sympathies. And Michael just in no hurry to make excuses, however, after the filming of the television station, all three went to celebrate successful capture rates on car Shufutinski.
>
Click here to see this article in russian: Михаила Шуфутинского застукали с любовницей
urushev_p
©2006-2020 All rights reserved