Russian Personalities
Nadia sang Ermakova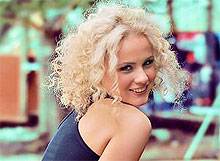 The regiment members singing TV project "Dom-2" on channel TNT arrived. At the wedding of Andrew Chuyev with a solo debut came Nadezhda Ermakova. The most sensible blonde "House-2" sang the song "The Queen" and had such success that eclipsed even the bride.
"I am a long time writing poetry, even the guys writing songs - says Nadia - but she sing like something was not solved. I always thought that I did not get that I'll look ridiculous and all that. But once I sang "Queen" Rome, and the song made her the impression that she literally forced me to go on stage! ".
By the way, bosom friend Ermakova Rome Pendzhieva also going to do vocals. According to rumors she has already learned songs with a distinctive title "Give the man a woman" and looks forward to great success.
>
Click here to see this article in russian: Надя Ермакова запела
urushev_p
©2006-2020 All rights reserved