Russian Personalities
Kornelia Mango opened an exhibition of his paintings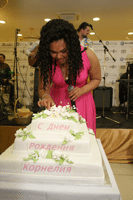 Young member of the popular project "Star Factory" has no time proving that they can not only sing but also have a host of other talents. For example, fabrikantka seventh convocation, a charismatic and scandalous Cornelia Mango pretty good draws. His exhibition, which coincided with his birthday, Cornelia presented yesterday at the mall "Home Decor Design" at the very center of Moscow.
Guests gather fans marking time at the entrance with flowers. Log in here and ordered not all - if you do not have a black glossy invitation with gold lettering, will stand beside them. Today it is a really gorgeous place belongs exclusively to the VIP.
While these VIP feed sweetly strawberries with cream, washed down with champagne or cognac to choose from, the hall sounds unremarkable music. After some time it is replaced by live musicians, who sit at the music and charge your recent searches, they say, in full.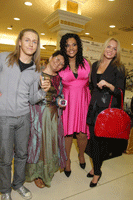 From here guests can see the ubiquitous Alexey Vorobyov with little red bags, forgotten by all Yuri Titov, humbly stands in the corner, eagerly posing cameras Irsen Kudikova Mike Mironenko (both - the participants 'Idol 5') and of course, brothers and sisters Cornelia "the shop" - a group of "bis" Natalia Tumshevits and Yegor Ivashchenko. The other "factory" heroes will catch up later.
Dima Bikbaev and Vlad Sokolovsky with interest the work of Cornelia, who put on special wooden easels here in the hall. "It is his art," - notes Dima, posing for photographers.
Not long making everyone wait in front of the stage itself occurs hero of the triumph, dressed in a bright pink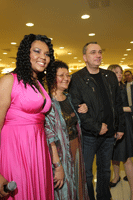 silk dress and smiling to everyone. "Thank you. I really was very important that each of you have come here today. Thank you spare the time. I'm really very important. Thank you "- does not hide the storm of emotions," says Cornelia.
After that she takes the microphone in his hands and sings quite unusual for her image song. Those "Who are you", "two halves" and "I love myself" - thing of the past, and in the future, she promises to sing other songs are very serious.
"Some pictures I drew, while still in the Star House. And when we had to somehow earn money for food, I taught little children to draw "- recalls imenninitsa and cuts the birthday cake.
Ahead of the continuation of a long and tiring tour of "American Idol 7." When there is still time for new art in?
Anna Pavlova
Pictures from the opening of the exhibition, see here
Click here to see this article in russian: Корнелия Манго открыла выставку своих картин
pavlova_a
©2006-2020 All rights reserved