Russian Personalities
Paul Cashin: "It was time when the music is basically dead"
Paul Cashin identity ambiguous. The image created in the mind after listening to the songs very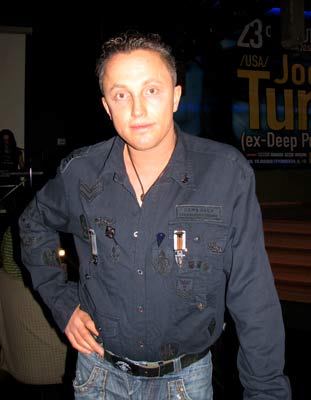 misleading and not enough to reconcile with reality. Somehow, the subjective associations at the mention of Pavel Kashin carry somewhere in the Silver Age. Beautiful poetry, a little sad, a little romance, a beautiful instrumental, jazz to sprightly waltz.
But in conversations before the concert about the music, show business, literature, Internet, cities and cinema had a lot of humor and even self-irony, calm and contemplative approach to life, but not a bit ecstatic romanticism.
- You very rarely interact with journalists, not often on radio and TV, why not?
Pavel Kashin: the time has come when the music is basically dead. If you look past the dying music channel - MUZ, then you'll see who we have there star: Ksenia Sobchak, Zverev, Listerman and paid little girl. That is, the channel has essentially nothing to do with music has not. And to do when this kind that I have been doing business, I feel stupid. It's better somehow degrading to sit out of the ether. Call with any more stupid talk show, to sit by some guests, but not for so many years I was composing his own songs that would sit there and talk about dogs. Esters, which are invited to play a concert, I'm happy to come and play, but this is rare, because no one associated with live sound. A shoot clips now humiliating, because you must first remove them, put the soul, and then convince them to turn channels. I think this is beneath the dignity of a normal person.
- In an interview, you said that you are the producer himself ...
- In Russia there as such producers. There are husbands, wives, and wives engaged in dealing with their husbands. In principle, the answer phone calls and scoring the number of concerts in the mobile phone can any sane person. Thank God that my "business" does not depend on advertising - people will know about me by word of mouth.
- Peter, Moscow, America ... that is closer?
- Now Moscow, I live here. In the winter I fly to Los Angeles. To earn money writing music for television. This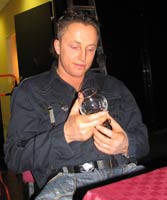 "A plate" channel, and I like this unfettered flight of fancy. And the rest of the time when you can live here, I live in Moscow. From spring until January. Although next year I will probably leave for the new year in a country where nobody knows anything about the new year.
- Tired of holiday?
- This Christmas hysteria and widespread depression Christmas depressing. New Year - is a holiday, which must meet or in a family that not everyone has, or with my closest friends, which turns out to inspect the same, not all there, or at the very steep site, which is one of the world and nobody knows where it is. And everything goes as obsosy "- not in the steep place, not with close friends and not with the family.
- Never thought to publish something in America, the English language?
- Show business has died everywhere, not only in Russia. And America, he is still on the inertia of the roll, but that's who we now know? In London, won a beautiful Australian girl - her name - Kylie Minogue. Girl-it is really very beautiful, but to sing it certainly can not. Of course, abroad to make a product that can be listened to, but eventually reduced to the bums in shorts and a frame.
- I heard that you were writing music for films ...
- Yes, the film Andrei Sokolov "Artifact". This is his debut as a director.Apparently, the cast he was gaining on the ratings - there Zavorotnyuk and Sobchak and someone there just no, but the filter turned out funny. There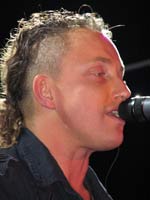 I wrote a song especially for this tape.
- In general, not every musician can boast of so many albums ...
- Goals - writing lots of songs - no. I do not want anybody to prove it. Just when the mood, I write.
- I have stuck some cliche "Pavel Kashin - still romantic ...
- It's all nonsense and I do not know who invented it. I guess I never was romantic and not - I'm the ghost of show business. Everyone knows that I am, but nobody knows what it is.
- On your official website is regularly updated only section "Playbill". Apparently, you and themselves to the Internet is cool about that?
- I have a half years as a stop to pay for Internet access. I am without it easier and more interesting to live. This is a garbage pit. If I will need to pornography - I'll buy her way to glossy, but I will not stare at the monitor. 90% of call on a network of sex, even by email. That's all for the students. And the weather and the dollar can learn on TV.
- Favorite place in Moscow.
- I live in a wonderful location. Given that the center is a very quiet place. I like to park that close to me,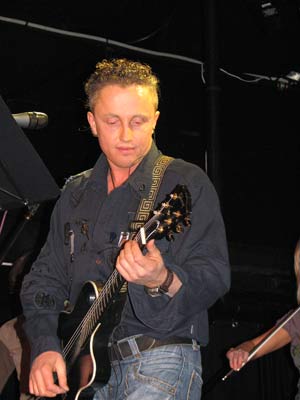 Krasnopresnensky about which nobody knows except the locals.
- Last book you read with pleasure?
- A new translated book, Kundera, whom I consider a better writer - "Life is not here." This is an absolutely brilliant book. Kundera just usually start to read from his most unsuccessful but well-promoted books - "The Unbearable Lightness of Being." So it does not need to read. Must read "Immortality" and "Life is not here." And more recently translated by a new book by Martin Amis "Success" - is also a very good book.
- Songs about love so much, but about the private life no one knows anything ...
- There are two views - one that I'm a womanizer, and the second - that the gay (laughs). When one begins to prevail, we must raise another, so people are not scared.
Concert in club "Orange" lasted nearly two hours. In addition to the old songs, improvisations, mini-orchestra of the charming young ladies and a solo on an ordinary saw, Paul Cashin introduced a new, very beautiful song, which, by his own admission, wrote a couple of days ago. In March, the musician has released another album - "Laugh and circling, which is currently being mastered.
"I am many people ask me why so many sad songs. Simply, every comedian - it failed tragedian ... "- with a smile, told the assembled audience Paul.
Actor is grateful listeners inundated with flowers, and a fan, presented a rare gift to the musician in the sauce, knowing the love of a musician to the seasonings.
"Very strange, when women give men flowers" - embarrassed Cashin, borrowing from the room next bouquet. Just such gifts worth not every man - only he who is able to replace the present mood.
Elena Pakhomenko,
author's photo
Click here to see this article in russian: Павел Кашин:"Уже пришло время, когда музыка в принципе умерла"
parhomenko
©2006-2021 All rights reserved