Russian Personalities
Verka Serduchka welcomes visitors!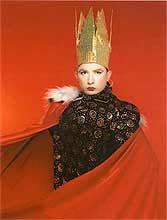 Not so long ago, Ukrainian Cinderella Verka Serduchka moved to his suburban residence. No, the prince she has not yet met, lives are still with my mother, differing still present Ukrainian hospitality. On a visit to the same stellar hostess walk different celebrities.

In October, starts entertaining weekly "Show Vєrkі Serduchka" own production TRK Ukraina.
Leading to one of a kind Cinderella Ukraine - Verka Serduchka and her assistants - the legendary caring mother and an actress of the Theater Danilko - backing vocalist Romanov, located in the eternal search for the man of her dreams.
The action of the show takes place in the "country house" Verka, where a visit to her coming world-famous personality - whether its friends or enemies - but the important thing is that they, like the hostess, give joy to people. Here, they cook dinner with the hostess, watching movies together or skits performed by Verka and her mother, and subjected to all sorts of provocative tests. Of course, all this with the trademark humor of Verka and her mother.
Incidentally, the new mansion Ukrainian Cinderella become a real princess - in addition to a spacious living room, where to put even a chic white piano in the house has a kitchen, where Veerka loves gossip with her mother and personal office lady, made with Thiele's "a la Sherlock Shoums. In addition, the home has a full scene, where the invited guests in a happy act. In general, earned a Vera at a real castle. However, without a mortgage could not have done, he jokes Vera, in debt, both in the silks, but satisfied with their apartments.
v>
Click here to see this article in russian: Верка Сердючка встречает гостей!
urushev_p
©2006-2020 All rights reserved