Russian Personalities
The "brilliant" stolen mobile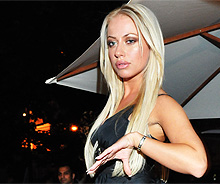 Guest yesterday's noisy party, found the loss of your mobile phone. And how do you think what this visitor was the same? Of course, Anna Dubovitskaya! She once again got into trouble.
"Handbags, we put on the sofa and went, he stayed behind us, - says Anna - who would have thought that at this moment someone is interested in the contents of my." The most interesting thing out of her handbag stars disappeared only phone - a purse and other valuables were left in place.
Discovering the loss, Anna began to proclaim loudly about the incident public and the press. With social events rock was removed, to put it mildly, not in a good mood and the situation is not saved, even dinner with friends. But suddenly one of his friends gave a star ... a brand new phone! It turns out that during the dinner, he quietly went out and came back with a gift that, as if by magic, he decided all the problems of the singer.
Click here to see this article in russian: У «Блестящей» украли мобильный
urushev_p
©2006-2020 All rights reserved