Russian Personalities
Ensign Polina Polina - Belarusian pop stars
Tell us how and when you realize that you want to become a singer?
I graduated from high school general education, with an English bias, parallel studied at musical school, piano. Then came the Minsk Musical College. Glinka at the Department of National Choral Conducting. Then there was the State University of Culture, but department of folk song. I wanted to be a singer! In the process I was engaged in amateur bands: Start with the folklore of the theater "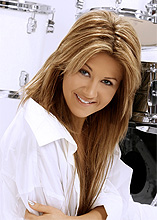 Gostsitsa ", then sang in the ensemble of the Belarusian song" Zhavaronachkі ", and then - in an ensemble of Belarusian Song and Dance" Tsernіtsa, where I was already a soloist. A couple of years I became a director and choirmaster of the younger and middle groups of the ensemble "Tsernіchka. So, as you can see, I sing for a long time and professionally! I recently moved to Moscow, where he began a partnership with Viktor Nikolayevich Baturin and the account I already participate in and win the various competitions, the scale value - I am a winner and holder of the special Award of "Malwa - 2001" in Poland, winner of the contest Belarusian folk song "Voices of Motherland" (2002), winner of the International Song Contest in Moscow (2002); international contest of patriotic songs in St. Petersburg (2002), winner of First Prize at the International Festival "Voice of Europe" (2003), winner of Grand Prix the contest of young performers "Slavic Bazaar" (2005).
As for the album? How many are in your account?
In the spring of 2005 in selling music shops around my debut album «Smile». Song "Rain», «Song of Love», "Fowler" a long time were on the top domestic charts. The album sold out extremely quickly. In 2006, he released my second album - "Site of loneliness." The first edition of the plate broke in three months: I took while first place in the charts' top-selling artists. The presentation of this album was in the most popular clubs of the country. And, for the year, my presentation has been named "Best club project-2006. In recognition of the founders of schools have laid a star with the inscription: «Polina Smolova. Number one ». This was unexpected and terribly nice! Well, now I'm working on a third album.
What are your b lizhayshie creative plans?
For a new album recorded two songs, in three more. The presentation is scheduled for some very interesting, energetic and spiritual place. Already I can say that the presentation would be very unusual! I really want to play a theater. The emphasis is on what to record, put on a show and touring with a new spectacular show!
Pauline, how are you pozitsioniruesh? What is interesting, new and unusual things in your music?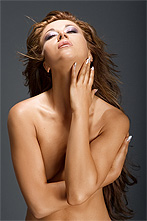 For many years I have tried a variety of musical styles and genres. Now I just really want to do high-quality products - interesting music. As before, and now I'm doing an emphasis on vocals. As for the album, then I'm not going to dwell on one thing, there is an idea and desire to make a mini-musical, consisting of certain stories: one story - it's rock opera, the other - a lyrical ballad, a third - pop-rock. But still in all that interests me and excites the vocal and high-quality music.
And the music you write?
Sometimes there is a desire to play something that sounds in my head, because it is very good at the piano, and professionally until she wrote nothing. Maybe not write because I do not have my keys. So all in front!and! Generally believe that everyone should do something concrete, but professionally. If a person writes the music, then he gets out of bed in the morning and his mind is already spinning some kind of melody. So that I do not have, so I'm singing!
Music, what style do you like most?
All styles, all directions and completely different vocalists - all close to me, because I'm a musician. And, of course, it all depends on my mood, my frame of mind, what I want to listen. This may be a classic, and jazz, and national folk music and opera. And of course, I will gladly listen to his music, especially the new songs that are just beginning to live and breathe. I have them over and over again, sometimes hundreds of times to listen to understand something, to understand. Here I am such a diverse.
Now you're a soloist with the Orchestra of Internal Affairs. Unexpected fact. How did it happen?
As a child I really wanted to speak with a military band, because he always associated me with something real, courageous and patriotic! After graduating from the University of Culture in Minsk, where I studied at the department of folk song, I spoke at one of the city of concerts under the patronage of the police department.
There I was, and received an offer to become a soloist with the military orchestra of the Interior Troops.
Besides, I always had to face a military uniform, and it naturally had to be sure to wear for all performances - without it can not be!
The orchestra police department I worked for three years and rose to the rank of ensign. Toured with the orchestra for the military units, has performed in prisons. Acted always in uniform. Repertoire was extremely varied - the old war songs, new patriotic and many others.
There were things that made me a little hardship. Recently I retired from the police: it was a job, you had to work ... It seems that police are not happy with what I could only sing. It was getting harder and harder: to have to fly an airplane on the first call, leaving the more important things to do, and do not always deal exclusively with the singing and to perform everyday duties of man. consisting in the military service. "- I did not want to strike police or throw others. So we parted peacefully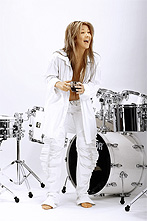 Let's talk about Eurovision. You represent Belarus in the competition in 2006. That this experience? What is most memorable?
Yes, I represented Belarus at Eurovision Song Contest in 2006, the year, and thus felt great pride and new feelings. After the "Eurovision" I came to a completely different person, another vocalist. Steeled myself and my last place, because it's not always easy. Most of all I liked the fact that I really learned a lot about music and about the artists, and about the present showbusiness. It was for me a huge lesson and a good sense of challenge. There was no spirit of rivalry and competition - was the spirit of friendship and solidarity of all countries. So cool it was! Two years passed, and I will gladly still would have gone there, so do not leave hope.
Affected if somehow involved in "Eurovision" to your career?
Certainly, every contest left their mark and influence on career and further career. Each contest in which I participated, influenced me in their own way, so for me it is a step of development.
Why did you decide to participate in the Russian national selection for Eurovision-2008 "? For anyone sick in Belgrade?
Because it came to Russia because it started to work in Russia because it was very interesting to start from scratch. When nobody knows you - this is very interesting and it ignites. The next year, will again participate - do not lose hope.
In Belgrade, a very sick for his native Belarus for Russia and, of course, is to support Ukraine. Ani Lorak was at the height of - for me it was the first place. She is an amazing actress and singer - I'm just ecstatic.
Would that Dima Bilan's victory holds his song and number - really the strongest? What song (number) "Eurovision 2008" and remembered you liked the most and why?
I believe that everybody loves a winner. And the song, Dima was good, and the room was strong, so it seems to me that all deserved - Russia has a right to be the first.
Once again, most of all I liked the room Ani Lorak and her song "Shady Lady". And of course, Evgeni Plushenko, pirouette on artificial ice, was very charismatic, but this is primarily a song contest!
Click here to see this article in russian: Прапорщик Полина Смолова - звезда белорусской эстрады
urushev_p
©2006-2020 All rights reserved