Russian Personalities
Olga Buzova Leaves for Germany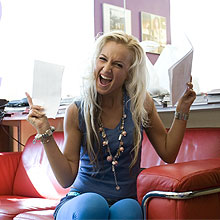 September 1 Olga Buzova, the main blonde TV project "Dom-2", leaving to study in Munich.
"The choice was between Munich and Berlin, but I prefer Munich, - says Olga - go there to improve the German language. I speak it very well, but to properly polish pronunciation needs some time to live in Germany. "
International courses premium last three weeks. During this time students and lectures exclusively in German. There is this pleasure is not cheap. Since she recently bought a car, then with a foreign education had to be postponed. But a sudden gain in the show "Intuition" again made the dream a reality.
Now Buzova prepares a student visa, and from September to begin classes.
>
Click here to see this article in russian: Ольга Бузова отбывает в Германию
grigory_r
©2006-2020 All rights reserved