Russian Personalities
Plazma group of yellow press, Alain Vodonaeva, music and love
Over the past few months about a group Plazma became rumors more than the boys were released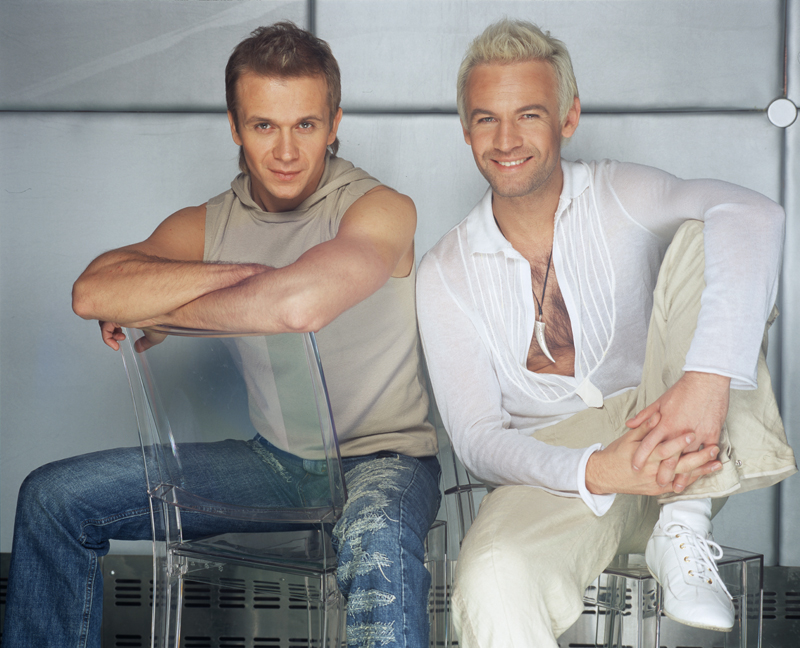 plates. At the same time, the musicians did not refute these rumors and not supported by referring to the buzz around them people with phlegmatic, even philosophical calmness. And during this time Max Bedding and Roman Chernitsyna had repeatedly diluted, marry and even assign more than one love story. In the highly exclusive interview with Maxim Bed told Yoki. Ru about their attitude to the rumors, Alain Vodonaeva, the fascination with car racing, new songs and discovered a recipe immunity from the star disease.
- About you now so many things written in the press. And basically it's gossip and savoring juicy details related to Alona Vodonaeva. As well, everything is really the case?
Max: The situation is not quite correctly filed by the media. We have a group and there Plazma Alain Vodonaeva. These are two completely independent entities, because we work in different compartments of show business. Simply, we decided to do a joint project with Alena, who is not important, as is said, Plazma and Vodonaeva, Vodonaeva and Plazma - it's not important, just a joint project. As part of this joint project we have done until one song in Russian. In this project we decided that we can afford to do a song in Russian, because until then, we wrote songs only in English. We did this song, now doing her promotions and watch people's reactions. And the reaction to this unexpected positive and it is very nice. People like the track, and we will look at what would happen next. If this would have an interest, we will continue to work in this direction.
- Well, most of all, naturally, involve "hanky-panky" around the project with Alena ...
- I would not go into details, but basically, that wrote the yellow press - the truth. Those details and particulars that journalists adorns the whole story ... I guess they do not need to focus, because the newspaper will still write what they want. No matter how things actually, they will write as they like, because the people, and the yellow press perfectly understands this, people are not interested in the facts of creation, the facts of health of the actor, the stability of the artist. Readers interested in the opposite: what, where, when he himself broke out there in love with someone who threw it away - and this they are happy to write and will write, providing all the details are often very, shall we say, not the Puritan character. Love always happens at all, and it is quite good, quite good.
- And what you've heard the most ridiculous rumor about yourself?
- All sorts of nonsense being published about me, about us. I really absolutely calm to this attitude, because I can not control it. Well as you can control a journalist after all. In general, smart people will understand, and stupid - I do not want them to explain anything. And as for the ridiculous rumor, then read in a newspaper that once we are in the Roman captured. It was about 4 years ago. Ostensibly, we were in Tashkent, and we captured some Mujahideen, we drove through the mountains, did not give us women. And since we were very oversexed, we at RR 5, gave to sleep with ishachkom. And it was published. Firstly, we have never been in Tashkent, start with this, so everything else can be no perceived. The most interesting thing that we spoke to this journalist, telling our life. Moreover, it added a couple of details of our lives that we felt on the verge of spice, but apparently it did not suit her. She came up with a completely different story.I do not know that she smoked, drank or smelt, but this article was even kept from me for a while. Of course the parents of this were in shock. I told them that if they are worried about something, they can always call me and ask.
- You seem to calm attitude to the gossip.
- I absolutely do not understand those artists who are beginning to worry about what they said about something bad. Do not engage in this business, be engaged lathe business, sharpen the details, then no one would be wrong to write about you. If you are public people, it costs the profession.
- Regarding the Roma Chernitsyna and Ira Dubtsova now also runs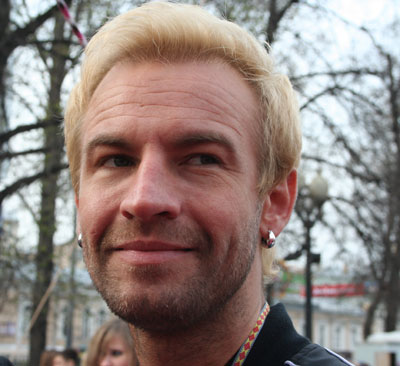 a lot of rumors. They decide to divorce?
- They're actually divorced. As far as I understand it, they departed, they live in different places, are planning to divorce officially. Although I do not know, maybe love will cover them with new strength and they will converge. I do not want to predict. I believe that there was a child, it is very bad, and that people converge and diverge is common.
- It is said that Roma has a new passion?
- It's true, he has a brand new love. He now resides in the most perfect degree of love. For a Roman it is quite normal. And it's good if he found himself in love. What man would not teshilsya, he should receive a certain amount of happy emotions of life. I am always pleased with people who know how to do it. I am not sufficiently possess the talent, I always want to improve their lives, so she had me a little colitis, I think about it a lot. So when I see a man who can enjoy the atmosphere of happiness, to invent the world and enjoy it completely renounce the life of any negative points, I'm always very envious of it. I put myself in their example.
- Soon holidays in May. Where will you go to relax?
- I'm going to Volgograd. I have a birthday, I'll try to make this birthday to meet with their family, for the first 8-9 years. Just want their parents to celebrate her birthday. I'm not going to call a large number of people I do not really like mass. I hope Roman will go with me, we are planning this trip together on the same machine.
- I heard you're partial to the cars and racing.
- Yes, we love cars, racing to get carried away does not work, no time. Although we had a couple of trips to the tracks. This is quite an amazing experience that we have received. In German, the ring, where we had a very impressive machine, with the rider. I learned that day about the tracks, about cars, about the way management is much more than in my whole life.
- Russia does not want to try?
- Coming to Russia to take cases. A ride to Germany specifically for the track and you do not care about anything else, you're removed from everything. And here, for example, I get two free hours between events and can enjoy the atmosphere of track and then have to switch back. I think it's useless.
- No desire to return to work on the radio?
- That was a great time and I remember him quite stunning feeling. This work and passion. Been expended much time and energy to the station. The fact that we worked on Europa Plus, it helped us in our future life.
If there is a normal, decent offer, I think I'll be back. True, I think that not a sound engineer or even a head of production as before.
- Many people are trying to do two things at once. Someone writes a book and begins to sing, someone working in television and begins to play the movie.And what would you do if there would be time?
- I would like to write music to any film. I would like to play some role. Even a little. That's interesting. The work, which I really do not understand, and appeals to me - is the work of a master or VJ. I do not understand how people can refocus the mood of the crowd. If you get to the stage in the hall and see the negative, as it changed to positive. This is the psychology of Aikido, as these have, how to learn this - I do not know. Therefore, I'm interested.
- What happened to this in your life, what was not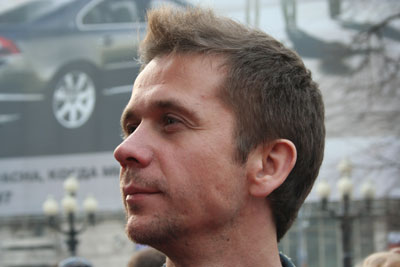 Ready?
- I set myself at all, psychologically, I'm ready for anything and negativity to a positive. I get up every morning and say to myself, what is it can happen, anything. How to master Conference - that is, at any moment he might repel the attack, which apparently he can not be quite ready. Such an attitude gives the ability to control any situation in life, but on the other hand he does not let you be surprised to one or another point.
- New songs and albums are written?
- Songs in the project. Ready yet. There are a large number of sketches of the material. As soon as he is rebuked in some form, and completed yet to finished product - then we can talk about the songs. We are working and doing new material and want it to be different from the old one. The most important thing to make good songs. By timing we have nothing to say. In Russia in general is meaningless to release an album - it is a loss-making event. Album in our understanding should consist of 10-12 - good songs, each of which must be a potential hit. Therefore, work on the album quite difficult, problematic. Configure itself for 12 hits, the matter is rather complicated. We like the cult of the "array of attacks," Aha "- they have a completely different approach to the album.
- What you need to make a girl to remember it?
- The person should be interesting. Demeanor. There are cases when just one or two phrases I cling and I have some time talked with this person. We can not say what to do this and that and I'll take it. None. There must be something which I do not have to wait. In the "Classmates" I have a lot of friends. In friendship, I refuse to only people who can not hang your picture, or the people who obviously hung photos of another. Or treated with some sort of debility questions like: "How Vodonaeva in bed." There are many, 30%, while the rest say yes, friends. They have not injured me. I do not consider myself a superstar who can afford to "send" a man when he just wants to be friends. The more that these people do not stick. They deal with some issues, but if I do not want to answer, I know I can not answer. Some write very funny stuff and I'm wondering what this man lives on. I'm starting to correspond with him and sometimes there are very smart people. Generally, I like to communicate with people who think faster than I was to catch up, not drag behind. Need to think quickly, quickly switch your mind to be on the same wavelength with someone who is clearly smarter than you and try to draw from him something interesting.
- And to share a recipe of their resistance to "star disease"?
- Star - Putin is, This is Michael Jackson, but we are people who just know a few journalists. Therefore there is no inner feeling that I'm better for all. We have absolutely the same as all. This is our job. Therefore, this should be treated as a job. But the most basic, immunity from disease stellar - this fall. The man who fell and rose again, he will never hurt starry disease.The man who kept climbing up - fall it will be very hard, and fall, will in any case. While awareness of this does not come, the recipe does not exist. But the star disease in all its manifestations, I do not think the lot of smart people. Smart star never does not allow disparage the people who surround them, or who simply live in the glow of their glory.
Elena Pakhomenko
Click here to see this article in russian: Группа Plazma про желтую прессу, Алену Водонаеву, музыку и любовь
parhomenko
©2006-2020 All rights reserved