Russian Personalities
Anastasia Osipova wants to marry his Marat Safin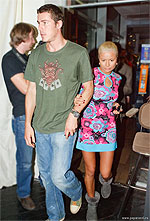 In recent years, secular gossips only do they discuss the current re-pair - Safina tennis player and lead singer of the "brilliant" Anastasia Osipova. If we believe well-informed sources, the pair met about six months ago, but flaunt their relationship began only recently. But how!
Marat and Nastia is absolutely not shy to show their feelings in public - that kiss, then hug, then kolenochke stroking each other. In general, the total idyll! Osipova so entered into the taste, as they say her colleagues, is seriously going to marry a millionaire.

See gallery: Marat Safin "flashed" the blonde
Whether she is so confident in himself, or did not know "fighting" the merits of his half. Although the second - is unlikely. The fact that Safin has long received the title of chief heartthrob of girls in show business. As rightly noted, a prominent man really has a weakness for it to representatives of the industry.
If you remember only known to the general public lava-story 28-year old pretty boy, it's already impressive list. For example, at one time tennis tied delicate relationship with the actress Helen Korikovoy and current fiancee Roman Abramovich, Dasha Zhukova. Moreover, it was with Dasha, as assured Yoki. ru people in the know, a novel Marat lasted the longest. And it was the first to leave Zhukova Safina, though before that he preferred himself to part with their passion.
Say, Safin is very generous with all their loved ones and the gifts do not skimp. This fact seems to fully compensate for the absence of marriage proposal. Under the crown Safin did not call anyone else. There was a timid attempt of this kind with Korikovoy, but then, as they say, the choice of his son resisted mom tennis.
Since courtship Hussars ended. But the unending series of his novels. Now girlfriends blonde tennis player was listed Osipova. And, apparently, the girl was not embarrassed by the fact that the tie of marriage Marat himself has no plans, but prefer to enjoy an open relationship.
But Osipov, as described Yoki.ru close to the singer people set up very strongly. Blonde crazy about her boyfriend and is not configured to share it with rivals. Will Anastasia with her charms for a long time to keep the handsome Safina, time will tell.

See gallery: Marat Safin clave ...

So far, nothing indicates that the tennis player has found the woman, which is ready to proceed, if not a lifetime, then at least some period. Affair with Osipova develops habitual for Safina canons, and now the pair is being candy-buketnogo stages.
Milena Florinskaya
>
Click here to see this article in russian: Анастасия Осипова мечтает женить на себе Марата Сафина
urushev_p
©2006-2019 All rights reserved