Russian Personalities
Book insomnia opened my eyes
- I like to pick up a book with a beautiful cover, open it, consider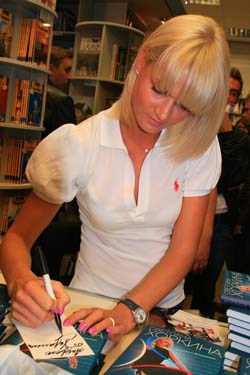 pictures. This is better than stupid to listen to audiobooks in the car - confessed to buyers bookstore Svetlana Khorkina. Near her desk gathered most people, they ask questions and request to sign on the cover of the book. Athlete and State Duma deputy Svetlana Khorkina has also become a writer. At the presentation of his book "somersault on the heels" come personally to the store "Moscow" to 22.00 hours.
But then no one slept - once a year shop carries "Book insomnia" - presentation of new books that represent the buyers store their authors.
However, the authors are not popular. Boris Barabanov advertises his book "ACCA" and calls to ask questions, but the audience reacted sluggishly and absorbed through the store - close to the places where something play out: either, although a pen, even though the book, even movie tickets.
- It is difficult to apply to a large number of people - sadly notes Boris
Drums, looks down and notices on the table and not touched a pen. - Oh, no ... well, take an autograph nobody wanted.
To be popular writers today, few know how to write. Must still be "someone" and more prominence in the parallel trade, the more successful book. Gurov may be three times better in Russia, a specialist public relations, and Barabanov do the best interviews with the performers headlining the main roles, and legendary film, but the book is two-time Olympic champion Svetlana Khorkina among the general reader will be popular. And even the price tag "270 rubles" will not stop: "But the personal signature of Svetlana" - breaks into a smile of a young man, looking left Khorkina autograph, and proudly goes to the checkout.
Svetlana Khorkina sign another book and chatting with customers.
- All this, read my book! - Answers to questions Svetlana fans. The book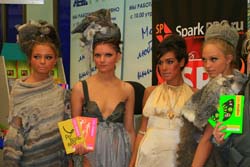 Svetlana tells about his personal life, remembers the sport of intrigue "zasuzhivaniya" Russian athletes at the Olympics, interesting stories about TV stars.
To be popular today, a writer need not be if "someone", then at least write in "pristine" theme. Fashion, PR, a compilation of the experience and the forgotten - on topics such name does not do. Need to write or too informative or unusual to build a track, or in extreme cases - to "take" the reader of his books (such as this makes Sergei Lukyanenko). Bulk reader reaching for the fact that it is already known, not bothering the new knowledge. As they say, Senka and hat. And books.
Irina Golosov
Click here to see this article in russian: Книжная бессонница открыла глаза
parhomenko
©2006-2020 All rights reserved