Russian Personalities
Y solo "Roots" will be double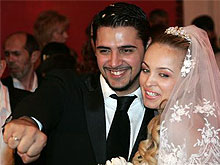 Wedding Alexander Berdnikov and his girl Olga was held in July, and now the couple were pleased family and friends another good news - they will be born twins. 21-year old girl was delighted that his mother will soon two kids. As Alexander has admitted to us, they and his wife want a boy or a girl.
"We want a" finished firing "at once. A boy and a girl - great! For daughters, we have already picked a name. We call it the Valentine, in honor of my mom. But for the son of a name yet we choose "- told Yoki.ru future father.
On the occasion of this event Berdnikov decided to speed up their trip in Paris, dreamed about Olga. This will be their honeymoon because of the wedding couple and could not find time for the trip. Well, now - a holy cause!
>
Click here to see this article in russian: У солиста «Корней» будет двойня
urushev_p
©2006-2020 All rights reserved