Russian Personalities
Lazarus and Schatz got rumors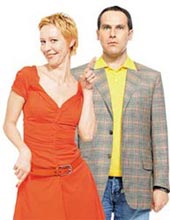 Information that giggling couple on the verge of divorce, runs on coterie have a couple of months. The situation worsened after a colleague Tatyana Lazareva and Michael Schatz Killers, said in an interview that he witnessed stormy scenes of the pair.

Due to violent fantasies of journalists, even some friends of Tatiana and Mikhail has been believed that they were not living together and intend to divorce. During a recent vacation Lazarus and Schatz just tormented calls. Most asked to comment on their family situation.

"I'm just furious calls from! We almost all the rest have not spoiled! So I can assure anyone who is trying to inflate this theme further, none of my divorce with Tatiana not wait! Naturally, as in any family, have our arguments, but disagree with us in thought was not! "- We were told by Schatz.

Incidentally, the couple did not take offense at the Fur. They do sometimes figured out when it attitude. But Alexander did not speak to journalists about the fact that Michael and Tatiana are going to divorce. This has already been inscribed in the context of what the Fur said.
p>
Click here to see this article in russian: Лазареву и Шаца достали слухами
urushev_p
©2006-2019 All rights reserved