Russian Personalities
Nicholas Rastorguev putting health at risk
How known due heavy illness group leader "Lube compelled adhere certain rhythm life and dieting. In particular, there artist doctors categorically forbade him to drink. But sometimes Nicholas Rastorguev can not resist the temptation.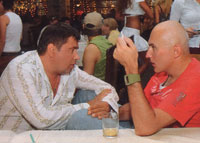 Especially when dealing good company. Such as that which met the singer at Kinotavr. Sin as stipulates not relax in society longtime friends - Leonid Yarmolnik and Syarhei Garmash. So they figured the three of the Black Sea ...
Observational sources claim that Rastorguev drank no more than three glasses of whiskey, but it was enough to become an artist is not good.
Nicholas was forced to leave the company and retire to the hotel. "He risked his health, but in another way can not! Forever on the brink! In this whole Nick! "- Distressed friends of the artist.
Milena Florinskaya
Click here to see this article in russian: Николай Расторгуев подвергает здоровье опасности
snezinskaya_e
©2006-2020 All rights reserved