Russian Personalities
Pugacheva Galkin jealous of Kirkorov
As they say in the musical coterie, lately relations Alla Pugacheva a parodist is waning. Couple often quarreled. Another reason for strife, according to rumors, was the participation of prima donnas in the creative night of her good friend Ilya Reznik, which took place in Krasnodar and Rostov-on-Don.
Rumor has it that Maxim Galkin until recently insisted that Alla abandoned these concerts. The fact is that in the same concert was attended by the former spouse Pugacheva Philip Kirkorov. Precisely because of this allegedly flew into a rage Maxim.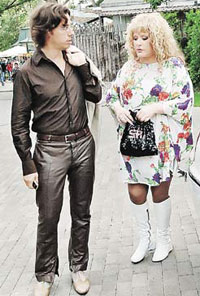 However, despite the gentle attitude toward Galkin, Alla acted in its own way and did not neglect business obligations. Moreover, participation in concerts Reznik singer personally asked businessman Victor Baturin.
They say it was thanks to Victor N. Pugacheva and Kirkorov first met in a long time. And while on tour after a quarrel with Galkin Alla arrived in a bad mood, met with Philip Bedrosovich very happy star. Kirkorov was pleased and surprised by nothing less. Indeed, until recently there was no certainty that Pugacheva still to come.
Having seen together on stage star couple, the audience cheered. However, after speaking Alla avoided the company's ex-husband and preferred to retire at the casino.
Muz-TV Award 2008. Red carpet vanity.

By eyewitnesses, Pugachev was sad and thoughtful. It can be seen, they really did not seriously quarrel with Maxim. However, as we know, pretty quarrel - only to amuse!
Milena Florinskaya
Click here to see this article in russian: Галкин ревнует Пугачеву к Киркорову
snezinskaya_e
©2006-2018 All rights reserved