Russian Personalities
Marina Devyatova brought to France Moscow Nights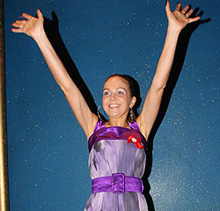 From a trip to France Marina Devyatova delighted. After working for several concerts in French cities, Marina realized how culture is European audiences differ from the Russian people.
During the half hour program of the singer did not notice a single phone call, no one got up and did not walk down the hall. People are calm, well again, except for our emigrants, sat before the end of the submission. Although, apart from such world renowned tracks as "Katyusha", "Moscow Nights", "Kalinka Malinka", the French students, who came to the concert, did not understand anything.
For them, all the other songs - it's one big Russian folk song, which they listened nicely and even sang along.
"I do not want to offend anyone - said Marina - just a different mentality, that's all."
Sami concerts were divided into two parts, one part has been instrumental, together with the other show-ballet. Ballet audiences amazed, for them it's something intergalactic guys who were doing posting legs at 180 degrees, touching hands Myskov were for the audience some wizards. Of course, everyone liked the costumes, specially selected for the event.
"We went with his samovar in another monastery, and even very well," - said Marina Devyatova.
She was pleased with the reception of a rainbow French. And yet time to come to this country with concerts.
Theodore Krueger
>
Click here to see this article in russian: Марина Девятова привезла во Францию подмосковные вечера
grigory_r
©2006-2020 All rights reserved