Russian Personalities
Elena Kuletskaya no hurry to marry Bilan
It seems that Dima Bilan hastened to declare the marriage. It turns out that the couple is not ready for such a serious step. As we know, the singer has promised if he wins the Eurovision marry his sweetheart - model Helen Kuletskoy.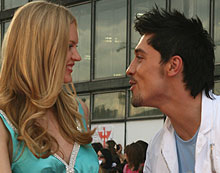 However, after returning to Russia caressed glory, Dima was in no hurry to announce a wedding date. This does not happen, to the delight of fans, and soon.
"It is too early to start a family. Now all this matter and only interested, but I personally did not promise to marry Dima after his victory in the contest. We have a very delicate relationship, but for marriage, in my opinion, we are not ready, "- said Kuletskaya.
Apparently, the couple has wanted to pay attention to career issues, and only then start to create a family. However, as acknowledged by Lena, further career Bilan will not matter in their personal relationships.
According to the model, if Dima will want to leave the stage and move to a rural backwoods, she did not hesitate to go along with it. Blond believes that Dima won this education, which certainly would be a great family man, and with Lena will not have to worry about their fate. Just all the time.
Alain Snezhinskaya
Click here to see this article in russian: Елена Кулецкая не торопится замуж за Билана
snezinskaya_e
©2006-2018 All rights reserved