Russian Personalities
Olga Rustle: How to subdue Brad Pitt
Popular TV anchor Olga Whisperwind calls himself a crazy girl, referring to his passion for adventure and extreme. However, in my personal life, Olga, on the contrary, prefer stability.
For the past eleven years Whisperwind lives in a civil marriage with one man and absolutely happy. The only thing it lacks, it's children.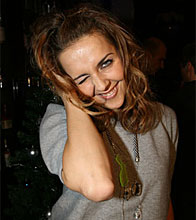 - Olga, you are very open and cheerful person, as they say, is not typical for television?
- Why? On television, in fact, a lot of good, positive people. Simply assumed that television work alone vultures, but this is a mistake, fortunately.
- And they say that the on-screen characters are very flighty and susceptible?
- Well, all I can not judge. I will only say for myself. I've always been selective, though all around me, I will not hide, always vilos considerable number of fans. However, I carefully watch. If my man is something repulsive, something I never wound up acquaintance with him.
And I can say that before his meeting with Lesha (director and producer Alex Tishkin - MF) I was sure that her prince has not yet met. That's me sitting in this belief, and that's it. Apparently, this is the female intuition.
- That is, no one looks you right away, except him?
- Appearance, frankly, has never played a lot to me. I first drew attention to the inner qualities of man, and his appearance in this scenario to take second place. I believe that if a man is beautiful, it's an additional advantage to him, but no more.
However, when I first saw Lesha, it was numb with ecstasy. God, I thought, as he looks like my favorite Brad Pitt, even better! All such fashionable, handsome, but arrogant and excessively! Here it is for me impressed! And when we started working together, I thought, what a rude!
- What is it with you on the Rights of the producer turned arrogant?
- I even thought that he mocks. I remember, has appointed a shot at the street and asked not to be late. Sam missed almost two hours, and we're all crazy cold. It was in November. So this monster yet, and ice cream in a shot made me eat.
But I decided not to give up and bravely chewing ice sinyuschimi lips. At the end of filming, to my surprise, Alex sat me in a company car, took my hands in his and started warming up. It turns out that my endurance struck him on the spot!
- He is in you and love?
- No, I love it, as he said, a little later, when giving me another extreme. He generally liked to hold my check for strength. In general, once we went to shoot a program about the quad.
For clarity, entertainment and sat me on this unit and I am horrified and praying to himself, jumped on huge bumps. And Alex from watching me and once again marveled at my manhood. It was then that he fell in love with me, all such fearless!
- Confessed at once?
- No, I had to take the initiative in their own hands and fight for their happiness. I first confessed her love for him, knowing that you can not drag on. Leschi constantly hovering around some girl that I was extremely unnerving.
In general, during the birth of one of our staff, I had brought Lesha aside and with a smile on his face said that I love him.He was a little taken aback, but then said: "What you're quick, ahead of me! I also love you very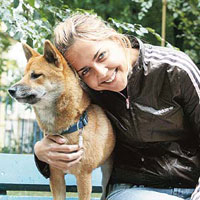 love you! "And we decided to live together.
- As far as I know, everyday comfort came to you not at once?
- That's for sure, be tired out, we rented apartments awful! Our first apartment on the outskirts of Moscow, I do remember with horror. Rinky-dink television, squeaky bed-pimped, sheets on the windows instead of curtains.
In general, a nightmare! And we lived hand to mouth, as all the money went to pay for this cell. And parents ask us the money was ashamed.
- Is it true that you almost do not quarrel, when you offered to do a "Playboy"?
- We have a quarrel, and how! To me then just come in popularity, and I'm awfully glad to receive this offer. But Lesch hit me with a stream of criticism. Said he was uncomfortable even the very idea that his girl will stare a lot guys.
In short, he delivered an ultimatum to me: if I agree to shoot, then we parted. I remember, I then threw him in a cup of coffee. It flew by, but crashed against the wall. Of course, I refused to shoot, because our relationship was for me much more important.
- And after so many years you fought a lot in general?
- Almost there. There were, of course, a quarrel, but as a rule, we are quickly reconciled. I'm always the first step to doing. I actually kind of person that can not long be an insult in itself.
And then I am happy to listen to a loved one. As shown, Lesch me ill never advised. So serious conflicts we never happens. I am happy that the person next to me, whom I can always rely, and who can solve my problem any.
- Olya, but why do you still have not played the wedding, though, as far as we know, Alex has made you an offer?
- He told me he did not once! Moreover, he invites me to a registry office almost every month. Last romantically asked me to marry our decade. We went to Dublin and there Lesch, standing on one knee, the ringing of bells again made me an offer.
Gave elegant platinum ring with diamonds. It is, however, turned to me for a couple of large sizes. He in fact never gave me a ring, that's wrong with the size. But all this nonsense! In the jewelry shop I remade it and now I have this ring is almost removed.
As for the wedding, we elementarily not enough time to get to the registrar's office. Every time something interferes. But we do not lose hope yet to get there! I really want to try on the veil and wedding dress. But in the next couple years is probably unlikely.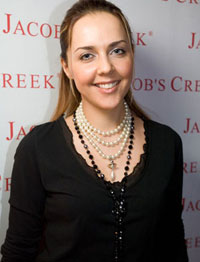 - Why a couple of years?
- Because we are now busy building a country house, and according to preliminary forecasts of construction will extend it for such period. We bought a good site about twenty miles east of Moscow, and Alex is now engaged in the construction of this epic. I am in the construction did not climb! Not a woman's case.
- Olya, and strongly altered to change your family life?
- Yes, I often stopped dyeing her hair, as it did before. I wanted to look more adult. But before we Lesha even wore dreadlocks! Now, the question of image I have become more permanent.
- Have you wondered what will be in five years or ten?
p align = "justify"> - Not as well! I do not even want to think about it. I like to live for today and enjoying every minute. A plan something in advance I do not want. Life is interesting for its surprises.
Milena Florinskaya
Click here to see this article in russian: Ольга Шелест: Как покорить Брэда Питта
snezinskaya_e
©2006-2020 All rights reserved