Russian Personalities
Dima Bilan may be the best European actor for the MTV version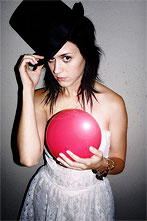 November 6 Dima Bilan will represent Russia in the category "Best European Artist 'at the main ceremony of the European MTV Europe Music Awards 2008, held in the Echo Arena in Liverpool and will be broadcast live at 21 on MTV in 40 countries across Europe.
"The main reward for me - recognition of the public. I am unspeakably glad to represent Russia at this year's ceremony EMA trusted me. I understand the responsibility and complexity of choice, because I'm not the first time winning such a possibility, but there are other worthy artists. For I listener - this is life, everything I am doing and what works - it public.
And I am pleased to know that the affection was mutual. Thanks to every single person who likes my music, who cares about my work, who cast his ballot. Together we are a force, and believe me, our with you tandem able to beat all records! Do not say goodbye, Dima Bilan "
According to the results of a pan-European vote, which ended the night on October 12, Dima Bilan, the third time in a row (!) Was named the best Russian singers. His rivals were Nastia Zadorozhnaya, Timothy, Band'Eros and Sergei Lazarev. From today, Bilan, and 20 more artists from other countries will be competing for the title of best European actor.
Bilan listed as an opponent Quest Pistols, Nightwish, Morandi and Leona Lewis. The prize winner of MTV Europe Music Awards 2008 will be awarded on November 6 in a live ceremony.
We also learned that the young singer Katy Perry will debut as a leader in the MTV EMA. Promising young singer will be the first to conduct such an event, and likewise for the first time most popular American blogger Perez Hilton will conduct online broadcast of the show.
"Katy Perry - One of the freshest and most successful young artists to emerge on the international music scene this year, as evidenced by her nomination in two categories (" Best New Artist "and" Best Arrangement ") - commented Richard Godfrey, senior vice president, music and executive producer of the MTV Europe Music Awards 2008 - We want to lead a more informal, relaxed, but had a distinctive musical distinguishing feature. And we think Katy us is perfect. "
Perry herself comments on his participation in the show: "I was so excited when I heard that announced in two categories, but when I was asked to conduct the ceremony, I was literally crying! Keep this prestigious show, be a follower of Christina Aguilera, Tom Jones, Pee Diddy and Snoop Dogg - an incredible honor. I wonder if they know, what they get involved? "I just hope I do not spill your drink."
23-year-old artist from California, became famous thanks to the composition "Ur So Gay", released in 2007, and in 2008 strengthened its hit "I Kissed A Girl", which sold 5 million copies worldwide. Already sold more than 1 million copies of her latest single "Hot N Cold", since they released their debut album, Kathy "One Of The Boys", who has already bought more than 1.1 million fans of the performer.
Katie on stage to join her group of musicians. They will become the official Band MTV EMA 2008 and will perform musical interludes together with other artists and presenter.
Each year the MTV Europe invites celebrities from around the world to speak at the ceremony and present awards to the winners. At the scene of the ceremony will go Beyoncè, P! nk, Duffy and Kid Rock. A reward will be handing Solange Knowles, SugaBabes, Tokio Hotel and Grace Jones. The list of special guests show Tiziano Ferro and Travis from "Gym Class Heroes";.
Click here to see this article in russian: Дима Билан может стать лучшим европейским артистом по версии MTV
urushev_p
©2006-2020 All rights reserved