Russian Personalities
Lolita fell to her knees in front of a group of Mirage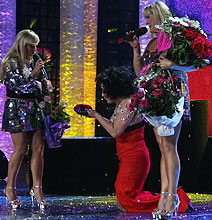 Musical Show "You - Superstar!" With the legends of Soviet and Russian pop late 80's and early 90's, applauded by many viewers. Enterprising creators decided to remove the transmission its continuation. The new project "Superstar 2008" with Lolita as lead will be a musical KVN, where the team "USSR" and "Russia" will perform different tasks.
Yesterday on the set passed the first stage show. "Business Card", each participant had to perform his most famous song, the number of each party, including Irina Otieva, Soso Pavliashvili, Alexander Ivanov, and Katya Lel was unique.
But when the group appeared on the scene "Mirage" with Margarita Suhankinoy and Natalia gulkin film set turned into a disco-club with a crowd of seductive dancers go-go, fire-shows, mirror balls and a shower of confetti.
The song "Music bound us," danced all starting from the cleaners, and ending with the main director, who did not want to let the singers, and asked to perform the famous hit several times in a row.
At the end of the speech came to the stage Lolita, to congratulate the girls successfully completed the first task. Unexpectedly, Margaret and Natalie Lola knelt in front of the singers and confessed that they were the most talented performer.
See photo essay "Mirage" Lolita
Click here to see this article in russian: Лолита упала на колени перед группой Мираж
grigory_r
©2006-2020 All rights reserved