Russian Personalities
The groom Malinowska revealed all the secrets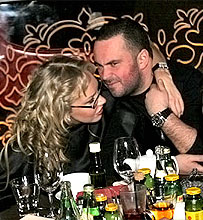 Hunters sensations wash up bones of the famous TV presenter Masha Malinovskaya. This week, the press is actively discussing a rumor that Masha threw fiancé Dennis. Meanwhile, young couple enjoying each other's company, and not about any quarrels do not think so.
- With Dennis we are fine and we have no quarrel. Maximum to my fiance from me can take it to work that morning. We are tired of endless gossip about our relationship and want to be left alone - said Malinovskaya.
- The Masha, I fell in love at first sight! Now I realize that this is the only woman I truly love and want to be by her side until the end of life, - commented Denis. - Now I'm dreaming just about to become my wife, Masha!
Theodore Kruger (Photo by Gregory Rezanova)
>
Click here to see this article in russian: Жених Малиновской раскрыл все тайны
grigory_r
©2006-2020 All rights reserved