Russian Personalities
On Friday, August 8, the leading television project "Dom-2" married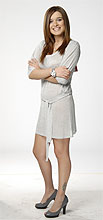 According to Xenia, the decision to marry came spontaneously.
"We sat with Yuri in a karaoke bar and sang the song" All share with you in half. " And then Jura said: "Xenia, let's get married!" - And I realized that this is what I want most in the world! ". Bridegroom sighed with relief and gave Ksusha diamond ring.
During the wedding ceremony the bride was not a white, and gold evening gown. "Big, noisy wedding, the bride in a traditional white dress, a huge number of guests and the cake will, but next year - says Ksenia - now simply not enough time. The decision was taken hastily, and we decided to do everything quietly, without fuss. Therefore, at a wedding attended by only relatives and close friends. "
After marriage the couple and a few guests went to ride on the traditional "Wedding" places of the capital. Feast was held in a Moscow restaurant "Noah's Ark". This is one of our favorite places. Restaurant in the center, but in a quiet pereulochke - nobody could have guessed that I was there celebrating her wedding "- smiles Xenia. Since Borodina's busy schedule, and the husband of TV presenter can not stop all cases honeymoon postponed to September. Lovers leave the Maldives.
Incidentally, a few days before the wedding Ksenia Borodina visited family planning centers and passed all tests. "I really want a child, hopefully in the near future, it we will" - recognized Xenia.
Recall that one and a half months ago, TV host "build love" with businessman and part-time DJ Anton, but the relationship did not last long. "We are very different, - said Borodin - I want Anton to find love. And I found his. I am very happy! ".
See our picture stories in "Show Business".

Click here to see this article in russian: В пятницу, 8 августа, ведущая телепроекта «Дом-2» вышла замуж
urushev_p
©2006-2019 All rights reserved