Russian Personalities
Alexander Panayotov parted with his horse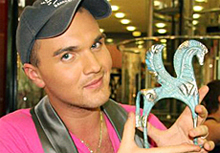 We music fans a chance to get things Russian celebrities. Opened only Russian store, "providers" who are famous people.
Here you can find a jacket by Alexander Marshall, now written by members of the band Chelsea, designer dress from Natalie Podolski, pendant on a chain by Stas Piekha and a lot more interesting "star products".
For example, Alexander Panayotov not sorry for the shop bronze "Pegasus", which has long been a talisman for him and a symbol of creative inspiration and success. According to Greek mythology, Pegasus - the winged horse that gives inspiration.
This statue five years ago Panayotov brought from Cyprus, and from that moment his career went uphill. Alexander won many music competitions.
- I do not like to part with things - says Sasha - After all, each of them live a piece of my soul. But somehow I feel that I must convey that Pegasus. I am sure the horse gets into a decent arm and bring the other person a welcome inspiration and success.
Consider carefully the photos in "Show Business".
Theodore Krueger
>
Click here to see this article in russian: Александр Панайотов расстался со своим конем
grigory_r
©2006-2020 All rights reserved