Russian Personalities
Autograph-Sex "brilliant"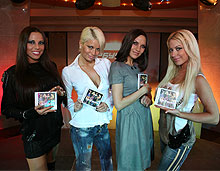 November 9 Group "Brilliant" held an autograph session on the new album "classmates". Everyone could get a new album, get autographs, take pictures with the member of the group and see the new video "classmates" as well as exclusive video clips from the shooting.
Representatives of the fan club specially for this event drew a poster in which a little later, "Brilliant" put their autographs. Also, the soloist of the group with the pleasure of speaking with the fans and the fans responded to questions from the media and shared their creative plans.
And of course, the band performed at the Concert Hall Gorbushkin yard a new song and some long-beloved by the audience hits. Candid girls dresses, hot dances to your favorite tunes left nobody indifferent.
The album includes 20 top tracks for the entire 14-year history of the team: "There, just there," Flowers "," Fog, "" Where are you, where "," Clouds "," Cha-cha-cha "," dear helmsman "," Ciao, Bambina "," For the autumn comes winter, "" White Snow "," Ay-ay, "And I flew," "Orange Song", "For the four seas", "Palm pairs" , "007", "Oriental Tale," "Christmas Song", "captain", as well as new song "classmates".
See photo essay: Autograph-Sex "brilliant"
The sound has been updated - there are more arrangements. And, of course, sound enlivened the new version. Next to the familiar Nadia handle, Anastasia Osipova and join Anna Dubovitskaya year ago, in June 2008 and is Julianna Lukashev. Bright Brunette fits perfectly into the image of the team. The Group continues to be as bright, groovy and fun. Needless to say, "Brilliant!"
Click here to see this article in russian: Автограф-СЕКСия "Блестящих"
urushev_p
©2006-2020 All rights reserved