Russian Personalities
Time-tested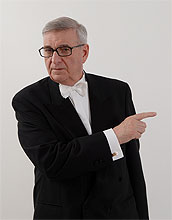 At the State Kremlin Palace, along with the best Russian performers and spectators will celebrate 50 years of stage career symbolic figure in Russian culture, People's Artist of Russia, a virtuoso saxophonist, leader of the legendary ensemble "Melody" and the leader of Moscow and Krasnodar big band, composer of nearly half a hundred feature films, including such hits as "The Pokrovsky Gates, owner of the Russian State Prize for achievements in jazz music - George Garanian.
Among the guests this evening Joseph Kobzon and Lev Leshchenko Gverdtsiteli Tamara and Andrei Makarevich, Philip and Lyme Vajkule, Sergei Mazaev and Jasmine, Masha Rasputina, Alsou, Mark Tishman, and many others
Business card ensemble "Melody" - Soviet music in jazz interpretation. His first record (1973) was sold 4 million copies! For thirteen years running George Garanian ensemble has recorded 16 so-called "solo giants and 9 small plates.
In his future career George Garanian continues to demonstrate that for him as a musician, there is nothing unattainable. He has worked in various streams of jazz - jazz-rock, Symphony Jazz, bebop, performs classical and pop music, has experiments in the circus, opera and ballet, toured extensively in Russia and abroad.
But perhaps the most successful project Garanian - ensemble "Melody". Thanks to the "Ring" Russians love to re-Patriotic music, and foreign audiences learned what a "Jazz in Russian."
This evening George Garanian and invited guests will perform songs from the movies "The Diamond Arm", "Amphibian Man", "Irony of Fate," will present the audience a lot of pleasant surprises and will try to surprise and please those who will be at this festival in the State Kremlin Palace 1916 November.
>
Click here to see this article in russian: Проверенно временем
urushev_p
©2006-2020 All rights reserved