Russian Personalities
Vladimir Devyatov got a new car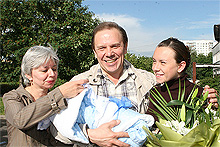 Not so long ago, Vladimir Devyatov became a father for the fourth time, son Ivan was born in late June. This gift has made People's Artist of wife Lisa. Vladimir, in turn, decided to give her ... car.
Why the car, not a diamond ring, Vladimir argues quite seriously:
- I have a young wife and she needs to be mobile, and this urgently, because we live out of town. So I decided that the machine it is simply necessary.
With a choice of car is not tormented artist, just know that you need:
- I'm a big fan of SUVs, sedans just do not admit it. I drive myself to the comfort of the SUV Mazda CX7, and his wife bought a Nissan Qashqai. The machine is small, but <in dzhipovski> comfortable and most importantly - safe and with a good cross ..
Gift to his wife came to taste - she was so happy that even woke up the baby, who was sleeping in his crib. Van gift was displayed in the window, but the kid is not imbued with the importance of the moment and on the sweet baby soft terracotta color did not respond in any way. But Lisa was very pleased.
- I have this gift came just by the way - says Lisa - I'm feeding the baby and can not permanently leave the home. And the car I always have time to go back in time.
-Well, what about the diamond ringlet for Liza, we are in the process of choice, thank God for this good now stores in bulk, - said Vladimir.
>
Click here to see this article in russian: Владимир Девятов обзавелся новым авто
urushev_p
©2006-2020 All rights reserved