Russian Personalities
Marina Devyatova preparing to become a club promoter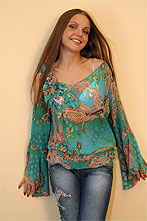 Marina Devyatova decided to try her in the club business as a promoter. Already in late December in one of the most popular nightclubs in Moscow will start a series of parties called "Matryoshka Party".
The first party will be more testing and will be held for friends.
"You know - says Marina Devyatova, I've long been watching our club business and truly love all of these nocturnal hangouts. But a large part of such projects is monotonous and has no conceptual framework. Somewhere six months ago I had the idea to create something near and dear to every man - a series of Russian parties.
This does not mean that the stage will sing "In the field of birch stand." We will attempt to sublimate the Russian culture in symbiosis "folk" with dance music or the same is very popular among our young R & B. And of course made to the effect of this little Russian buffoonery. What we love, and that is what we sometimes do not have enough.
Currently, Marina completes negotiations with the club industry and in all trains on the first draft..
Click here to see this article in russian: Марина Девятова готовится стать клубным промоутером
urushev_p
©2006-2020 All rights reserved