Rumour
The winner of the longest legs
German model Iwona with his height 196 cm is the owner of the longest women's feet in the world - 134 cm!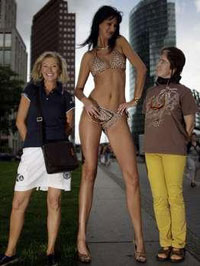 When a spouse is a 26-year mannequins wants to kiss her, then asks Yvonne to kneel. Also, what with its 177-th sm he looks over his wife nedomerkom, a 38-year-old Berliners too full figure.
Model and a truck driver met two years ago, when Yvon frequently shuttled between Berlin and his native Polish town of Suwalki. Due to such an invaluable capital, Yvon was soon able to buy a house by the sea, to share her happiness with her dear Jens. With regard to children, Yvon does not want them to grow with very long legs like hers.
"It used to have a harder time - said the model in an interview the newspaper" Bild ". - Most of the children refused stays with me and did not like me because I was different. " Even as a teenager, Yvonne has reached 170, see now she was pleased that she has such long legs. Not only because it brings a good income, but also the fact that you can look at the top of others. "All my friends are lower than my height," - says Yvonne.
Alex Zotov
Click here to see this article in russian: Обладательница самых длинных ножек
snezinskaya_e
©2006-2020 All rights reserved