Rumour
Boris Moiseyev expelled from the university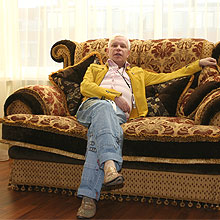 Honored Artist of Russia could not pass the session due to tight tour schedule. Boris Moiseyev last year passed the exams in the St. Petersburg University. But to become a diligent student of the artist could not.
All the fault was his popularity. Moses did so in demand that his concerts were ordered for the next six months. "Yes, were expelled. Well, what. I this year I did not appear for a single session, - said Boris Moiseev. - Well, it happened. The year was difficult due to busy tour schedule.
And just for the session had two stages: in Israel and the Far East. Well, I could not throw it all! This is my life, my work. I had to choose. But I'm still hopes to get higher education in this university and certainly will do once there. "
Theodore Krueger. Photo of Gregory Rezanov
>
Click here to see this article in russian: Бориса Моисеева выгнали из университета
grigory_r
©2006-2019 All rights reserved