Rumour
Alexey Goman withdrew his sweetheart naked
Alexey Goman finished assembling the long-awaited video.Chestno speaking, it seemed that this is a video from the category of documentaries about the star of life, about what the guys apartment, cars, pets, what they do in their spare time, and maybe do something erotic.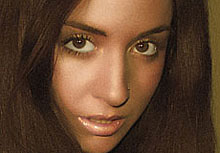 Expectation did not prove, but very pleased. Maria Zaitseva, together with Alexei Gomanom removed completely professional video clip. And let this first experience, if not done so, as we would like, but nonetheless, it is worth noting that the guys really tried.
It is difficult to understand how they managed to find time to work on home projects, but it looks more than good. Something reminded the video clip stars such as Sade, or Sonic, not enough, however, solo dance and a little variety, the picture is rarely changed, though, looks like everything is harmonious.
And in vain Maria worrying about arranging and recording in the home, the more that the video is not done for some competition, but for fans who appreciate the work of five points.
Here's to you and the trend - a new video, new album, a new activity: video, installation, arrangement, sound - Aleksey Goman grows along with Maria Zaitseva. It's great when the lovers set up joint projects, especially such as this home video clip. Success, guys.
By the way, especially for the male audience to inform you that Mary appeared in the video clip - naked. Enjoy ...
>
Click here to see this article in russian: Алексей Гоман снял свою возлюбленную голой
grigory_r
©2006-2020 All rights reserved