Rumour
Under "Assortment" in the composition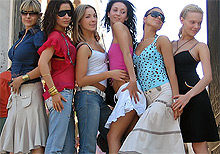 Many popular groups surrounded by different kinds of gossip and rumors. Especially for a "girl groups": they dispute between them, then arguing with the producer and left the band, then suddenly decide to have children, violating the terms of the contract.
It must be noted that all these rumors are baseless. Let us remember the popular "VIA Gra", "brilliant", "Cream."
And, just recently there was a rumor that the "Mixed" changes the composition.
"We have been working together very good friends with each other - says singer" Assorted "Maria Zaitseva. - So, if someone of us will leave the group, God forbid, we lose a piece of each of us. For so many years, so" ripe "that does not already represent our creative work without each other."
Smoke without fire, but we still hope that the rumors about changing the composition of the "Mixed" - empty talk. Although it is quite possible that soon we will not know one of the singers ...
This happens when Masha Zaitseva suddenly become a blonde, and Olya Vatlina, for example, becomes a searing brunette.
See picture stories in "Show Business".
Theodore Krueger
>
Click here to see this article in russian: В группе «Ассорти» меняется состав
grigory_r
©2006-2020 All rights reserved