showbiz
The most scandalous stars in 2006
YOKI made a top most controversial men of the year. Selection criteria served as the frequency with which the data representatives of show business on the front pages of magazines and newspapers in connection with major scandals, absurd statements, vulgar antics, scandalous love affairs and divorces, funny situations and blatant stupidity.
Tenth place - British singer Robbie Williams. The main scandal named singer for this year, no doubt - his short-lived romance with the royals, a goddaughter of Prince Charles the heir to the British Tara Palmer-Tomkinson. In an interview to a British television channel 34-year-old Tara said that she hardly can believe his good fortune to be close to a pop star. In their dysfunctional relationship princess blamed the media: "W hen the relationship begin to speak, that means they will soon be over", - said the disappointed princess. After the rupture of relations with the girl Robbie often at a gay club.
Ninth place - Tom Cruise. Dreaming to cash in on the new-born daughter, whom the actor called indecent named Suri, Tom tried to "drive" expensive baby pictures, but the press was absorbed stellar child Brad Pitt and Angelina Jolie. Cruz managed to draw attention to her child: a few months in the press began to write that girl Suri does not exist. Not without scandals took place and the double wedding of Cruise and Katie Holmes. The priest for a long time refused to marry them. After the wedding, Tom said that the role for Katie Holmes will pick up personally. And all because of its highly offended by the scene with his naked wife in the movie "Thank You for Smoking» (Thank You for Smoking). Because of dissatisfaction with her husband Cathy was forced to withdraw from the Oscars, on which it was nominated because of the sex scenes as an actress second plan.
Eighth place - Jasmine. Scandalous divorce Jasmine made millionaire singer, revealing all its wretched past and scandalous present. So far, not known, whether the singer beat her husband, or it was another PR-action singer. Also wrote, with whom adultery singer and that she was pregnant.
Miserable past Jasmine: as a nurse became the wife of a millionaire
Seventh place - Ksenia Sobchak. But this year, with the honorable second place, it was only in seventh. Among the outrageous escapades singer - Floor conduct a demonstration bare ass, striptease Sergei Zverev, a quarrel with Moses in a boutique in New York because of the coat hanger and stealing from the hotel in Milan.
In the life of Ksenia Sobchak appeared Adolf
Ksenia Sobchak - Raider hangers
Sixth place - black-skinned supermodel Naomi Campbell. On account of the "heavy" hand mannequins - three battered maid, Italian chef and stewardess. All three maids brought her to court, the chef has received monetary compensation and rejoiced that he was still alive, shaken by a flight attendant was hospitalized with a nervous breakdown. Naomi admitted that it often had fits of uncontrolled aggression, she "tried to be treated, but it did not help."
Gallery: Black Panther Naomi Campbell
Fifth place - Paul McCartney with a scandalous divorce from Heather Mills.Paul wanted to quietly get a divorce so as not to traumatize the children, but suggested that his wife is too meager compensation. As a result, more than two months the whole world read more about "dark past" Heather and looking photos where she poses for sex aids. As they say, avaricious pays twice.
Mills McCartney denied millions
Fourth place - Pamela Anderson. The most famous Playboy model with silicone breasts posing in a shop window in the Birthday naked, she married Kid Rock, divorced Kid Rock, appeared for the January issue of Playboy, and ordered the new year sex machine.
Pamela Anderson undressed for the January Playboy (Photos)
Third place - Primadonna Russian pop Alla Pugacheva. The singer has experienced a serious heart surgery, because of who wrote that she almost lost her life. In her room at the hotel broke into a desperate fan. Another sex maniac who persecuted the diva, got behind the bars - it turned out that he had killed several women. Pugacheva has a wedding ring and it is rumored, is going for the fifth time in marriage.
Pugacheva gathered for the fifth time in marriage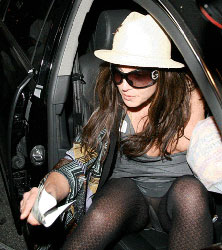 Second place - Britney Spears. The pop princess gave birth to her second child, twisted love affair with nanny-bodyguard, she divorced her husband, indulging in booze without panties, along with Paris Hilton and Lindsay Lohan, has arranged a bad striptease in night club Los Andzhelessa. As the New York Post, «From the innocent and elusive pop princess Britney has become a regular divorced women with children, a broken figure and cellulite.
Photo gallery: Paris Hilton deliberately undermined the reputation of Britney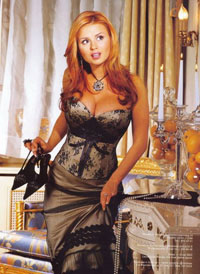 First place - Playboy model Anna Nicole Smith.   Three days later, after the famous Playboy model gave birth to her daughter, died of a drug her 20-year-old son, but after two and a half weeks Smith married her lawyer Howard Stern. In 1993, Anna Nicole was "girl, the" Playboy magazine and was married to 83-year old oil billionaire J. Marshall Govardasa. Anna still claims that the marriage was for love and fighting over the estate of the deceased husband.
Gallery: Star costumes for Christmas
Gallery: The most stylish celebrity in 2006
Lyalya Reasonable
Click here to see this article in russian: Самые скандальные звезды 2006 года
Ляля Разумная
©2006-2020 All rights reserved