showbiz
Wedding nirvana Vladimir Tishko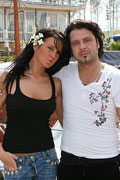 Recently, our celebrities prefer non-traditional wedding. That anchorman Vladimir Tishko led his beloved Emily to the altar in a Buddhist temple in Thailand. According to Vladimir, only Buddhist temple, he feels absolutely happy man, and the marriage rite here is very intimate.
By the traditional Russian wedding shower nor Vladimir nor his bride did not lay the first place. According to Tishkov, a celebration in the Christian tradition is increasingly turns into a normal window dressing, where the bride and groom in FIG nobody wants and everybody wants to kick faster and razbrestis in their corners. Such festivities for myself a couple did not want to.
"Another thing - a ritual at a Buddhist temple! All attention is focused on the spouses, there is incredible power! People do not just crown, but as it is energetically combine with each other! "- Shared Tishko.
Initially, Vladimir and Emilia supposed to get married in a Catholic church, but when it became clear that there must be written in barely six months, rejected this idea in favor of Thailand. There, in Thailand, the newlyweds decide to spend, and their honeymoon. Tishko admitted that they chose for the ceremony extravagant ring in the form of skulls.
"Someone might think that we are not in your mind, but in fact the skull - a very deep symbolism. This - the symbol of life, which, incidentally, is present at any Christian crucifix "- explained Vladimir.
In order not to offend their friends and relatives after returning a pair of still pay a visit to zagsya where formalize the relationship in a conventional manner. According Tishko for them to Emily it will be a mere formality, but keep it still necessary.
Milena Florinskaya
Click here to see this article in russian: Свадебная нирвана Владимира Тишко
snezinskaya_e
©2006-2019 All rights reserved