showbiz
Anybody became a professional hunter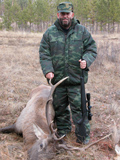 For the popular singer Michael Shufutinski hunting with his buddies back in Kazakhstan turned into a fair shake nerves, which is really all the same was eventually offset by decent "hunting trophy". Having decided at the end of the year a little break from the bustle of touring, the popular singer went with friends to hunt in the area of Lake Balkhash.
Placed the honored guests in comfortable lodges, where their services had been trained staff, including interpreters and a cook. The company, headed by an experienced hunter to arrive at the area from early morning and after several hours of stalking found the first good trophy - a wild boar.

- I am not a professional hunter, so that the nerves have been stretched, "says Michael Z..

"In the beginning we went hunting for wild boar. Huntsman made the shot, but a wounded animal is somehow caught in my direction. Wild boar - very strong, very mobile and quick to run an animal, therefore, being wounded, they often rush to the hunter. It happened in my case. Fortunately, the huntsman, having had time to take another shot, he packed up. "
"As far as deer hunting, in our case it was the so-called" hunting with a porch. " The task was to drive the car to feeding individuals far enough for a shot. As I have explained, this method is most often used for trophy hunting, as the transport allows you to see the incomparably greater number of individuals and to choose the best. I do not really want to shoot, but the huntsman began to insist. Since the distance was about 150 meters, I was sure that not make it ... somehow felt sorry for the deer. However, when I made the shot, it turned out that he had fallen. So I got the first trophy. In general, everything went without incident. Back at camp, tasted wonderful pilaf Kazakh, chak-chak, manta rays, "said Singer.

>
Click here to see this article in russian: Шуфутинский стал профессиональным охотником
Андрей Гальперин
©2006-2020 All rights reserved