showbiz
Strange fashion Katya Lel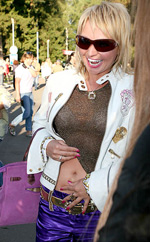 The singer, apparently, are so superstitious, that still continues to deny the fact of her pregnancy. And on why she recently has dresses with high waist and wide skirt, she found an explanation. As explained to us the singer, she just follows the latest European trends. Who would have thought?
In a glossy magazine the singer read that this season unfashionable to show all their charms, and welcome as private outfits. But in the accessories Katya has introduced some changes. Unlike Western glamorous ladies, our Lel drags on parties not small dog, and huge stuffed toys. Paris Hilton is thoughtful!
Needless to say, this way of attracting attention. But here is the spouse Kathy, she says, has only recently begun to treat her condescendingly chaste clothes. "At first he struggled with me. Of course, he likes when I go in tight tops and short skirts. But I have them now, the soul does not lie. Yes and we must keep up with fashion trends! "- Confidently declared Lel.
>
Click here to see this article in russian: Странная мода Кати Лель
urushev_p
©2006-2020 All rights reserved