showbiz
Ksenia Sobchak Nastia Volochkova: Emerald Russian ..! "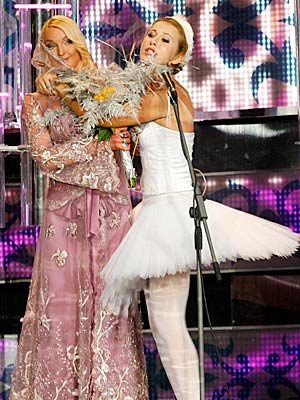 Hero of the week: 75% Anastasia Zavorotnyuk.
Anastasia Zavorotnyuk won court in channel "Russia" - for its withdrawal from the project "Star ice" is nothing anyone should. TV Company "Russia" had planned to sue "a beautiful nanny"

The scandal of the week: 58% of "House-2» VS Board of morality.
Public Council on morality demands to close a TV project "Dom-2". The project is under threat of closure because of allegations of "aggression," "vulgar," "criminality" and "shizofrenizatsii youth."

Actress of the week: 26% of Valery Lansky.
Valeria Lanskaya in the movie "New Rate" Russia, 2008, directed by Eugene Bedarev. Having bought a new phone, Andrew scored a chiming clock random number to congratulate the New Year to a stranger - a tradition they had with friends on New Year's Eve. Dialed the number - and called Allen, who was in another time ....

Actor of the week: 21% Daniel Craig.
Daniel Craig in the movie "Flashbacks of a Fool" UK, 2008. Directed Beylli Walsh. Daniel "James Bond" Craig has once again proved that he as an actor under the force not only crush the skulls of bad guys. The story tells of the sad ending Hollywood career, Joe Scott. Years cast sex, drugs and movies ignominiously turned complete disregard on the part of producers and undisguised disgust of the venerable public.

Premiere Week: 44% "New Rate".
The main character, to call the past, trying to figure out how to prevent the death of his girlfriend in a car accident. Russia, 2008. Directed by Eugene Bedarev, Cast: Valeria Lansky, Maxim Matveev, Mary Aronov, Dmitriy Dyuzhev, Valery Meladze.

Event of the week: 48% of Putin answered questions from Russians.
After becoming Prime Minister, Vladimir Putin has changed the practice of annual videoconferences with the Russians. So this time, Prime responded to questions raised in the air. Teleconference with Mr. Putin has made a record ratings, and the Vladimir Putin broke his achievement as the number of responses.

Quote of the Week: 24% Ivan Urgant.
Ivan Urgant cooperation with Vladimir Pozner: "Now, when Mr Putin in the kitchen so much has been drunk and eaten, we will not disown each other!"

Photo of the Week: 40% Galkin and Lolita.
Leading the show "Star ice" Maksim Galkin supported Lolita during her unplanned exit onto the ice.

Site of the Week: 44% Krolik.ru.
The new draft version of a novel - the first virtual movie studio - a social network for fans and film professionals.

Cover of the Week: 30% Telenedelya.
On the cover of "Telenedelya - Ksenia Sobchak, frank answers to the questions of the magazine.

Anecdote of the week: 54% Sobchak attacked Volochkova.
At the awards ceremony "Golden Gramophone" Anastasia award winners, both at the scene from nowhere appeared Ksenia Sobchak in a tutu, lashed out at Volochkova, thanks for the creativity and summed up: "Emerald Russia, your mother." Ceremony Photo Gallery can be found here .

On materials Peopleschoice.ru

Click here to see this article in russian: Ксения Собчак Насте Волочковой: "Изумруд России..!"
Андрей Гальперин
©2006-2020 All rights reserved