showbiz
Only Alla Pugacheva and Alexander Peskov seriously prepared for all exams
Parodist Alexander Sands graduated with honors Directing Department GITIS and received the diploma.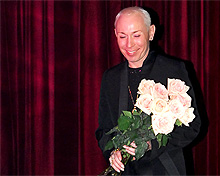 Alexander Sands is the artistic director of Russia's first sinhrobuffonady Theatre, which this year marks 20 years of age. In those early years, when Alexander decided to form their own professional troupe, nobody else did not believe that this genre can be claimed in our country.
Now record parodies Alexander Peskov really impressive - over 100 images. For many years no one else was able to transmit images of the brightest stars of the national show business, so how does the Sands.
Determined not to rest on our laurels and striving for perfection in your favorite business, Alexander has decided to pursue higher education and became a student GITIS . Despite a heavy touring schedule and endless shooting for all his studies, he never missed a class.
Deputy dean of the directing department, Raisa L. Logvinova embracing newly graduate, confessed:
- I have many pop stars taught in GITIS, but now I can openly say - just Alla Pugacheva and Alexander Peskov seriously prepared for all exams and passed them without any problems.
- I know that the best in professional clown and performer. And at one time secured that confidence circus school diploma. Now, however, was the goal - to become a professional director in the formulation of circus and continue to have an opportunity to implement all their ideas. I have so many years on stage, but always felt dependence on directors with whom I've worked with. And in order to compete with professionals, to become one of them - surely says Alexander.
See picture stories in "Show Business".
Theodore Krueger
>
Click here to see this article in russian: Только Алла Пугачева и Александр Песков всерьез готовились ко всем экзаменам
grigory_r
©2006-2020 All rights reserved