Science
"Dr. Death" will produce baby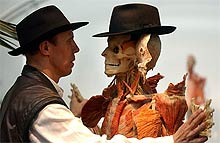 Within five days of gorilla-mom named Ghana did not leave a dead little body of his 3-month her son Claudio. About this touching story that took place in Münster zoo,
Yoki.ru already written
.
An interesting proposal was made by German Gunther von Hagens taxidermist from Heidelberg, which is worldwide known as "Doctor Death". He formally requested the zoo management, that he handed over the corpse baby gorilla.

- Due to the beginning of decomposition, to make a scarecrow of the corpse did not succeed, but I'll make a great scarecrow made of silicone and plastic "- quoted taxidermist newspaper" Bild ". Will the author used real fur Claudio is still unknown. Directorate of the zoo has not yet replied "Doctor Death".

Sam Von Hagens claims that only creates a "body with the muscles and skeleton, without fur."

Igor Bukker
>
Click here to see this article in russian: «Доктор Смерть» породит малыша
urushev_p
©2006-2018 All rights reserved