Science
Russians promise immortality
Over anti-aging drugs, allowing at least not to grow old and, at most, to reach the longed-immortality, scientists work-Paracelsus from around the world. Russian Academician Vladimir Skulachev able to move much further than others.
In this venerable scholar does not mean immortality. Not a populist - a serious scientist - Vladimir Skulachev, the seminars in which MSU no room to swing a cat, believes that we age because he could not resist death. Only. According to the academician, and aging - the same disease that should be treated. And he teaches us not to grow old with them also invented the means - the so-called "ion Skulachev.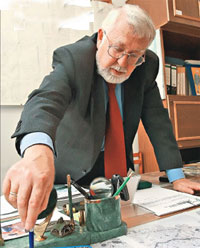 Energy-saving molecules introduced into the cell, can have positive effects on aging cells and prolong their lives. Incredibly, as they say, is a fact.
Academician Skulachev has managed to extend the life of dogs, cats, mice, rats and even ... flies. Along the way, scientists learned more and return the vision to animals, and this year the market will drop for the treatment of our "little brothers. Academician of the claims that these drugs are already available very soon and for us.
And, finally, really quite incredible that, once the center of the cell, ion Skulachev, not only does not lose with time their actions, but rather strengthens the ... 100 million times.
And still the capital demiurge does not want to talk about immortality, and even wince when it comes to prolonging life. "While we are likely to struggle with dryahleniem, with the aging" - modest academic who believes that, as once the fight against smallpox, influenza and sore throat extend human life and struggle with aging can make their lives longer.
Research Vladimir Skulachev interested in not only the light of world medicine, but also humanitarian philosophers. The discovery of the scientist attracted followers of Nikolai Fyodorov - the great scientist, who wrote about the possibility of immortality for the man. However, this principle scientist refuses to talk too. "I'm not a theologian and not looking for" the elixir of immortality "- excuses Vladimir Skulachev.
Alexander Gray
Click here to see this article in russian: Россиянам обещают бессмертие
snezinskaya_e
©2006-2020 All rights reserved