Science
Astronomers were able to be present at the very birth of the planets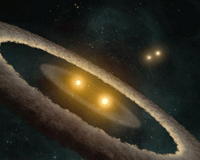 Astronomers observe for the first time succeeded in the earliest stage of formation of terrestrial planets. In fact, they were present almost at "conception" of the new young planet. Scientists have recorded in the protoplanetary disk around the KH 15 D dust particles with a diameter up to a millimeter - far larger than they hitherto have ever seen.
KH 15 D is a double star system, more commonly known as the "winking star". It is formed of two stars that are located within the protoplanetary disk, the diameter equal to Jupiter's orbit. The name "wink» KH 15 D was not accidental - every 48 days, both stars in the 18 days are hidden disk, which implies a strong fogging system. When one of the stars starts to peek out from behind the disk - the system starts to get brighter. On Earth, this is really more like a wink.
Strictly speaking, it is curious geometry "wink" system and benefited the opening. Astronomers, analyzing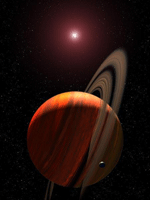 starlight reflected by a disk, and found that it contains hitherto existed only in theory, millimeter particles. According to modern concepts, Earth-like planets are formed from gas and dust particles of the protoplanetary disk, which later coalesce into larger education. Yea, astronomers could observe in these disks only education is much less than a millimeter in size.
The study involved more than one telescope. Researcher William Herbst of Wesleyan University and his colleagues in their work used data from 10-meter telescope Keck Observatory, Hawaii, the Van Vleck Observatory telescope at Wesleyan University, and a telescope observatory Maidanak in Uzbekistan, as well as several other telescopes. Effort spent on such a large study paid off. Now scientists have come close, in fact, to the beginning of the formation of terrestrial planets. Probably, over time, based on this research, they can find a lot of new details on the birth of planets.
Gregory Tumanov
Click here to see this article in russian: Астрономам удалось присутствовать при самом рождении планет
pavlova_a
©2006-2019 All rights reserved