Science
U.S. troops in Iraq were etched their same
American scientists have found the reasons, perhaps, one of the most controversial and mysterious diseases of our time - the "syndrome of the Gulf War." They were amazed by many participants of the first war in Iraq, but within ten years the very existence of syndrome is questioned in the U.S. and the UK. Now scientists have irrefutable proof the existence of the syndrome, Gulf War, "and I can not explain it.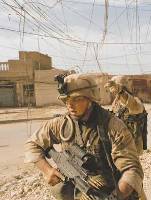 According to statistics, the victims of the "syndrome" of steel from 26 to 32 percent of soldiers who fought in Iraq. We all observed the same symptoms - prolonged muscle pain, joint pain, chronic fatigue, sleep disturbances and memory, as well as respiratory failure. Previously, doctors tried to explain this adverse field conditions, nervous tension, etc. However, it now appears that the soldier, in fact, poisoned their well.
Scientists have found that mass disease was caused by exposure to pesticides, toxic substances and medicines used in case of enemy chemical weapons. The fact is that during the hostilities in Iraq, the U.S. military actively used organophosphate insecticides to control biting insects. These substances was treated clothing, tents and other equipment of soldiers, and now this precaution has played a cruel joke with them, creating the same "syndrome".
The researchers also put forward this version: it is possible mass poisoning of soldiers, which led to a "syndrome" could be caused by prolonged exposure to sarin when U.S. forces destroyed Iraqi chemical weapons depots.
Also, scientists do not rule out the version of pyridostigmine bromide poisoning. This drug is mandatory to take all U.S. troops fighting in Iraq, in case of enemy chemical weapons. Say, "pereperestrahovalis. According to researchers, prolonged use of the drug could cause a lot of side effects and chronic diseases that now occur among the participants of the first war in Iraq.
Meanwhile, although the number suffering from the "syndrome" and large, not all those who fought in Iraq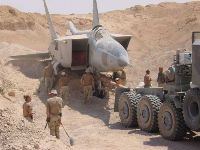 have the inherent symptoms and feel so great, as can a man who took part in the hostilities. However, the researchers suggest not to have illusions on this score. According to them, being "processed" Pesticide soldiers is directly related to their genetic characteristics that determine the body's resistance to toxins. Anyway, those whose bodies have sufficient immunity, just lucky - the grass toxic substances for such a long period of time, but still wearing their clothes soaked, and then another and not have ailments - thanks to genes and luck.
Gregory Tumanov
Click here to see this article in russian: Американских военных в Ираке травили свои же
tumanov_g
©2006-2021 All rights reserved