Music
Anton Zatsepin with Thee one: Anton of time to dig potatoes!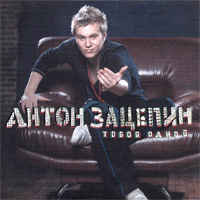 4 years after the end of " Stars Factory 4 "in one of the participants in the project by Anton Zatsepin was born, finally, his first solo album. True, as the disc "Thee one, 4-year low in order to make the vulgar, provincial kid in the pop star. Manufactured goods is still frozen.
While one of the biggest Moscow casinos filled with guests - and not so stellar - in the dressing room, former factory owner fourth convocation, Anton Zatsepin all busy with preparations for his triumph - after a long time to him again to go on stage. But it's not the point. The main thing - that for which he looked at her will. And that - a solo album that, even with a solid tightening, he wrote Igor Cool. He, incidentally, also here in the hall. In general, all these people gathered here to Anton adequately presented them to her first child, and the firstborn of how the first attempt - a clod.
Sov cover in the style of pirated discs, which Zatsepin sits on a leather sofa for strazikov laid out in letters, is already talking and asking a lot. For example, how it can be darn steep for so long one album and give a bad taste?
The CD contains 11 songs. 4 of them are still a few years ago - "shorter" and "Books of Love" with "Idol 4", "Broad River", from which the participants both in the summer pretty nauseated and "Fly Away", and not become a hit but actively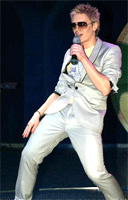 ratiruyuschayasya on the music channel. There are three more remixes under the code word "no." It turns out that ARS kommunarskomu boy wrote 7 songs as much as 4 years old, that boggles the mind, and even somewhere ridiculous.
Not only is it funny. Quality of the work also leads to a feeling of horror? Hatred? Shame for the Russian pop music? Who in that, but all in grave.
Songs that should cling to girls and the girls. Girls 'Crazy', going and coming, nice and small. One of the authors of the music and lyrics to some songs he was listed Mr. Zatsepin, that completely explains the narrow range of topics on which he sings and the weakness of these allegedly hits. All the songs just fit the tastes of fans, "Idol." But the girls are waiting for "pie" grew up, and already the girls are, at best, for 19 years. A Antoshka still want to sing about broken love silly girl. And they are not. That's a shame.
However, this album, for the boy from the Communards as a beacon of salvation. While Igor Y. writing-composing material, the boy from the Communards set off to the winds, wasting their lives and health for use by no means soft drinks.
But now Zatsepin have promised solo album, it's almost a star. Perhaps, everything turn out. Apparently, wanting to remember the past, "he rubles gained and the presentation. Rubles gained to go on stage by Shafei and sing a few songs under the "plus". In general, the infamous evening in honor of a weak album, and you know they are very in tune with each other.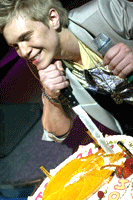 The life of an artist factory after production of complex and absurd. Especially if you exit to freedom immediately "caught a star, a couple of years has been in the spotlight, but now thy Ponti and dance moves (at this point you need to put quotation marks), no one admires.
But the boy from the Communards not despair, believing in a brighter future, he bravely steps forward: "Everything happens exactly as it should be. I think it's fine - to realize that you need.Thanks to all those who helped me to believe it - Anton Zatsepin wrote in the booklet of the album. - I go for the star by the name of a dream! Love Will Save the World! Hurray! P. S. Our fate - it is our imagination ... "
Funny they are provincial boys star. The main thing now - not sleep, when you understand that the dream was pink, no way out, but people did not like.
No hooked Anna Pavlova
Click here to see this article in russian: Антон Зацепин с «Тобой одной»: Антошке пора копать картошку!
pavlova_a
©2006-2020 All rights reserved