Music
Valeria and her English album Russian pop music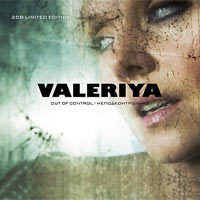 Deluxe edition of their new album Valerie "Out Of Control» / «Out Of Control» journalists gave to a nice shiny packaging, they have not noticed abominable English singer.
There Bilan with his pronunciation of "them-pa-si-bl" in the song, which he prepares for Eurovision (certainly not for the disgrace it?), But there is Valeria, in which the English are also a big problem, and, in her own words, Eurovision singer name, but she did not consider it necessary to go there.
Instead, she disappears in England, where he is and so, and that way minimize the Big Ben and the British to turn a head. As a consequence, the British press is replete with dubious titles of publications "Meet the Russian Madonna". And here is involuntarily start thinking about himself, about what to say in polite society is not accepted - and not whether Prigogine here tried?
Finance and the conscience of the star of the family will remain at their, pardon the pun, conscience, and the music of Great Britain, too. But it seems to me that the English version of the new album Valeria «Out Of Control», if it breaks abroad, nothing good out there will do. This will certainly not for the good.
The album was recorded during the past year, the world's best studios in Europe, including the Mountain Studio, where recorded Queen, David Bowie, Chris Rea. Settling plate engaged Simon Godzherli - the winner of the Grammy-2006 "for his work on the album U2« How To Dismantle An Atomic Bomb ». Russian version of the album includes 11 songs, English - 14 songs. Of these, only 10 tracks exist in parallel, performed in different languages. The other five songs on these two discs each other is not repeated.
From all the above troll can make a very loyal fact - Valerie can sing in English, Russian pop music the way it stays invisible.
At the presentation of Valeria, in spite of his years in trying to turn his hips and depict molodushku. Rather, singing molodushku. On the plates of this, thank God, did not see it, so that all attention is on the sound. Yes, sound professional, but the songs, songs for you! Where one begins, ends with another, but all together it is - a solid sound, in one case - in English, with another - Russian. Russian much better.
Hit songs are not seen but know beforehand, Prigogine make of undistinguished songs a few more super worn-out hits, as it was with no songs, "My Tenderness" and "Black and white."
Either way it turns out that Prigogine for Valerie, as a fairy to Cinderella - wave her wand and "Out Of Control" will present at the pathos of the capital club, wave her again - his wife will collect bonuses for the album. So much for Madonna, bought for a few hundred thousand bucks. So my, our opinion - as it is in fact worth it?
Anna Pavlova
Click here to see this article in russian: Валерия и ее англоязычный альбом русской попсы
pavlova_a
©2006-2020 All rights reserved