Music
Dieter became the producer of Russian-German group «Moving Heroes»
Dieter Bohlen, a soloist of the legendary band «Modern Taking», is not the first year working in Germany at the local Star Factory (DSDS) and is actively seeking talented artists around the world. This time his choice fell on Alan Alden and Dzhenir Belous. Girls born in Russia. The singer became the producer of their debut album «Golden Times».
Every day more and more foreign stars gladly admit that he was lucky to have Russian genes. They carefully studied the history of their families to find a grandmother or aunt of the former Soviet Union countries.
Famous singer, soloist of the popular group «Modern Talking» Dieter Bohlen did not even have to pick anything. His mother is half Russian. A grandmother living in Kaliningrad. "I have always been acutely aware of the relationship with Russia! A special treat to Kaliningrad - says Dieter. - In a strange way it combines incongruous: externally - European city, it is absolutely within the Russian. " So, little surprise that now Dieter was the producer of «Moving Heroes», a soloist who hails from Kaliningrad - no one else had.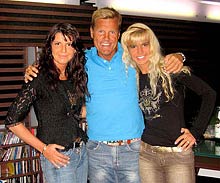 With a famous musician has brought their own destiny: "Just once he heard our song. And it all started ... "
This happened in late 2006. When in the hands of Dieter Bohlen accidentally hit the disc, where it was recorded just one song. And on the cover of a ballpoint pen was written: «You are My Angel and My Devil» and stood in a phone number. Enchanted composition Dieter decided by all means to get acquainted with those who performed this song! They were Alan Alden and Dzhenir Belous. Girls from Kaliningrad have been living in Hamburg.
- We absolutely did not expect that in an instant our lives can change so dramatically - Dzhenir said. - Work with the very Dieter Bohlen for us a great honor! The more so because we have always enjoyed art of this legendary composer, we played music since childhood and always wanted to do something similar.
«Moving Heroes» - are: Alan (lead voice), Dzhenir (music and lyrics, and the second voice of the group) and producer team Dieter Bohlen. Girls - cousins. They are familiar from childhood, and feel each other perfectly. Musical concept «Moving Heroes» - canon style Dieter Bohlen in modern sound, with drive and energy. This is a pleasant dance music, which improves mood. Known and loved by millions style «Modern Talking» still recognizable in the work of the young group. However, many now sounds different. Girls pay tribute to modern fashion: gothic texts, mysticism. And, of course, romance.
- The concept of the group is very similar to what I was engaged in «Modern Talking» - says Dieter. - Our team is long gone, but I did not leave the hope that one day we'll sing a foursome with «Moving Heroes». And, it's 100% will be the favorite in Russia hit «You're My Heart, You're My Soul». And while we are working with the girls on their second album, which should be born in this New Year

See our photographic coverage of celebrity in "Show Business"
>
Click here to see this article in russian: Дитер Болен стал продюсером русско-немецкой группы «Moving Heroes»
urushev_p
©2006-2020 All rights reserved