Music
MTV Russia Music Awards 2008 named its winners
On Friday, November 28 The fifth - the anniversary ceremony of MTV Russia Music Awards 2008. Spectacular show was timed to the tenth channel! The ceremony was held in GKTSZ "Russia" ("Luzhniki").
See photo essay: Award MTV: Grimaces Russian show-business

Best musical groups, enchanting numbers of speakers, a lot of emotions, sparkling jokes and genuine smiles - all filled past the ceremony. But most importantly - MTV has named the best of the best in 13 categories. Bring to your attention the winners in the categories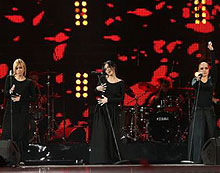 VIDEO - Dima Bilan «Number One Fan»
SEX - Vintage / Elena Korikova "Bad Girl"
NETWORK - foot "Fuck ... PUMP"
SINGER - Maksim "My Paradise"
Singer - Dima Bilan «Believe»
GROUP - SEREBRO «Opium
DEBUT - DJ Smash / Fast Food «Moscow Never Sleeps»
DANCE - Disco Accident / DJ Smash «Pasha-Face Control»
ARTIST - Sergey Lazarev "Why come up with love"
HIP-HOP - CENTR / Busta City Roads
EPP - Dima Bilan / Edvin Marton «Believe»
Plagiarism - Zhanna Friske "Zhanna Friske (Paris Hilton's" Stars Are Blind ")
LEGEND MTV -''Tatu''
Winners were determined by audience voting site MTV. Viewer voting was opened on 29 October 00 am 00 min. and ended November 28, 2000 hours, 00 minutes.
p>
Click here to see this article in russian: MTV Russia Music Awards 2008 назвала своих победителей
urushev_p
©2006-2019 All rights reserved