Music
Angelica Bellydance introduce the first in Russia, Eastern musical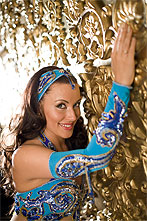 This fall, all connoisseurs of the exotic cultures of the East, and just music lovers will enjoy this Arabian tale - in Russia has its first Arabic musical. Premiere performances for children and adults with breathtaking called "Faces of Love" took place recently in the theater clowning on Serpukhovka.
Presented a unique show for the founder of Ballet shows Arbaatage and one of the highest paid Oriental dancers in the country Angelica Bellydance.
I can say without false modesty, that we managed to create an amazing statement - says Angelica. - Concert costumes and sets specially imported, assembled from all over the world. All authentic.
For one night a viewer can look at the three-meter fancy birds from Brazil, to assess the costumes of dancers and actors from Italy, Egypt, Lebanon, Morocco, Thailand, Tunisia, Turkey and enjoy the Sweet Arab tunes, take pictures of your child, together with these strong men and princesses, to bargain on the bazaar in the intermission, and of course to see the best in Russia, belly dancing. It is interesting to both adults and children. Mum and then we call and write the child wants more.
>
Click here to see this article in russian: Анжелика Bellydance представит первый в России восточный мюзикл
urushev_p
©2006-2021 All rights reserved