Hi-Tech
Paris Motor Show: Lada show them our Aston Martin!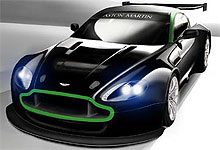 France kicked off most long-awaited auto show of the year. By slamming jams and applause "Dom Perignon" opened in Paris is the most representative International Auto Show Paris Motor Show-2008. Their Aston Martin to compete with our Lada Revolution-3.

Underlying theme of auto show - the environment. Residents of the Old World, as we know, the first year and was seriously concerned about the preservation of nature, so that manufacturers have tried to prove that they also feel responsible for maintaining clean air. And because each car - a special plate on to which environmental category belongs to this machine. Categories are determined by weight of carbon dioxide in the exhaust of a car for one kilometer.

As always, full of novelties. And, as ever, many of them. Each company is in store for at least one concept punishment. Today, they see only journalists, but tomorrow - everything.

Pearl of the showroom - a novelty on the Aston Martin - Concept Aston Martin One-77 and a V-shaped 12-cylinder engine volume of 7 liters. Only 77 of these cars will come (or rather will leave) in the light. Price? .. While staff Aston Martin about her silent, but it is rumored that each One-77 will be worth at least two million dollars. Who does not suffice - but may spend a new model Ferrari California and the concept car from Lamborghini. They are cheaper.
Photo story: Paris, cars, girls
Japanese leaders are Toyota and Honda introduced the compact and economical - Toyota Avensis and Honda Jazz. The latter, incidentally, already in full on sale in Japan. A Toyota Avensis plans to enter the European market via Russia. So it is in our Penaty expect and the first batch of new products.

By the way, we do not lag behind the world leaders in Paris and brought its concept. Avtovaz satisfied at the motor show world premiere concept sports coupe Lada Revolution-3, prepared by the Department of Lada Sport. Served as a base for the sports car popular in Russia Single sportprototip Lada Revolution-2. The new concept - a double, and the door opens against the direction of motion. According to the manufacturer, this car is in no way inferior to European counterparts, and should appeal to viewers.
Alexander Gray
Click here to see this article in russian: Парижский автосалон: наши Жигули покажут их Астон Мартину!
urushev_p
©2006-2020 All rights reserved