Cinema
Anna Semenovich and Ben Affleck will save the world
Anna Semenovich gained fame as a singer. A little later, everyone knew that the beauty Semenovich is a professional figure skater. Anna is now open for all to yet another party: it is an actress. Her behind shooting in the series "All this sudden, out soon in theaters feature film" Hitler kaput ", where the main role of Ani. Woman seriously interested in many of renowned directors. And not only in Russia! For example, recent studio "Columbia pictures" suggested S. participate in tests for the lead role blockbuster, directed by Martin Campbell will be, who shot the 21st James Bond.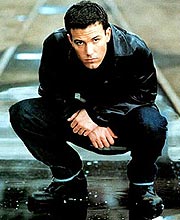 Scenario is not simple. You bet! He wrote, the ideas of a major Russian businessman who is sponsoring a film. Young Russian billionaire's daughter, whose role is to pretend Anna Semenovich, kidnaps a bandit, which will be played by Ben Affleck. Along the way, they become bystanders conspiracy of Russian and American intelligence. Entire movie heroes are a tough hunt. Despite the fact that the hero Affleck repeatedly saves the life of the heroine Semenovich - they can not find a common language. And resides in the counter. And at the end of the film, according to the law of the genre all waiting for "happy end": the heroes save the earth from the plot and fall in love.
That businessman, whose name is on his own volition kept a closely guarded secret, insisted that the Russian heroine is played Russian star. Assistant director closely studied the photo and video presentation, dozens of famous Russian girls. Their choice fell on the singer, skater and actress Anna Semenovich. And after the audition, especially for whom Martin Campbell flew to Moscow, he realized that he was not mistaken in the choice. On the role of cruel, but charming bandit was uniquely selected by Ben Affleck. A billionaire, whose daughter is kidnapped, will play the businessman. "I am adequately assess his acting opportunities" - he said. Therefore, the film will only be present in the picture with the beloved daughter and a voice on the phone.
- It is difficult to believe that this is happening to me. When I said I was approved for the role, I called a friend and, beside himself with joy, began to squeal to the phone: "I have taken, they took me!" (Laughs). And she asked: "And thou shalt kiss Affleck?" - With a laugh, says Anna Semenovich. - Oh, do not even know how to answer it ... one thing I know absolutely for sure - with Ben Affleck I'm ready to save the world.
Filming is scheduled for 2009.
See gallery
Anna Semenovich: Honored bust of Russian pop music
Click here to see this article in russian: Анна Семенович и Бен Аффлек спасут мир
urushev_p
©2006-2020 All rights reserved