Cinema
Intelligent porn Kevin Smith does not stand censorship
The new film the famous director Kevin Smith ("Dogma," "lazy," "Jay and Silent Bob Strike Back," "Clerks," "Clerks II») «Zack and Miri Make a Porno" due for release on October 31 this year. However, while a picture can not overcome a mark of censors NC-17, the appropriate rating polupornograficheskih films, as well as age demarcation - children under 17 years of the show are not allowed. "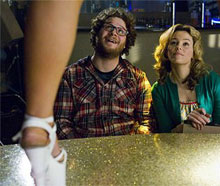 Action lyrical comedy revolves around Smith's enterprising couple - Zack and Miri - who decided to improve his financial situation by removing the porn. However, the director, as usual, are primarily interested in the development of relations between the main characters, who played Seth Rogen ("Kung Fu Panda," "Donnie Darko") and Elizabeth Banks ("Catch Me If You Can," "Spider - Man ").

Kevin Smith presented final version paintings on court MPAA (American Motion Picture Association, Motion Picture Association of America - ancestor rating system helping parents assess suited whether particular movies viewing their children) where commission instantly awarded film rating NC-17 - ie Children under 17 years of the show are not allowed.
After making some changes, Smith once again brought the film censors, and again was rated NC-17. The tape had to redraw the second time, but to no avail: the two scenes, and cause major discontent with the censors, and remained in the film.
MPAA does not take over the functions of criticism, it does not define good or bad this or that painting. It does not expose its censorship, but merely clarifies the potential danger to the children's eyes. Moreover, the grade is the parents themselves - that they are on a rotating basis are included in the board of administration on classification and ratings.
Movie, were rated NC-17 may contain a fairly explicit sexual moments, corresponding to slang and episodes with extreme violence. However, the rating does not imply that the film is obscene or pornographic. But many cinemas prefers not mess with movies obtaining rating such assessment.
Kevin Smith was not discouraged. He, though not going to fight the system, but hopes that he would still be able to lower its rating to neutral film R, which allows children under 17 years of watching movies with their parents. It is this requirement to ratings of pictures specified in its contract with the studio.
A on Convent Comic-Con Smith briefly informed and plans. He intends to change its comedy and take on low-budget horror "red states" and after that - to test their ability to shoot a spectacular movie.
See our erotic picture stories.
Click here to see this article in russian: Интеллектуальное порно Кевина Смита не выдерживает цензуры
grigory_r
©2006-2019 All rights reserved